New VTX955 VPX Chassis Provides JTAG Master Capability
Press Release Summary: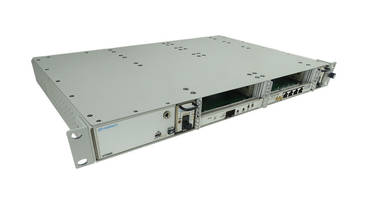 Chassis has left to right push/pull cooling to the VPX payload and RTM slots
Accept 0.8-inch, 0.85-inch and 1.0-inch pitch modules and is ideal for commercial deployment
Provides 500W AC universal input power supply that supports 90W AC per slot
---
Original Press Release:
VadaTech Announces 1U Open VPX Rackmount Chassis with Two 3U Payload Slots and RTM Support
Henderson, NV – July 31, 2019 – VadaTech, a leading manufacturer of integrated systems, embedded boards, enabling software and application-ready platforms, announces the VTX955. The VTX955 is a 1U Open VPX chassis with two 3U VPX payload slots. It can accept 0.8-inch, 0.85-inch and 1.0-inch pitch modules and is ideal for commercial deployment. A 500W AC universal input power supply is provided that supports 90W AC per slot and the chassis has left to right push/pull cooling to the VPX payload and RTM slots. The unit is designed to meet ANSI/VITA 65 (18 CFM per payload slot at 0.24 in-H2O @ 5000 feet). The Chassis incorporates a VadaTech third generation shelf manager that provides tier 2 health management. The layer-two GbE switch that is included supports 802.1D Spanning Tree Protocol, 802.1W Rapid Spanning Tree, 802.1s Multiple VLAN Spanning Tree, programmable per-port VLAN configurations, 802.1Q, etc. The switch also has two Ports to each of the VPX modules as well as having four Ports to the front of the chassis via RJ-45. The module accepts GPS or other clocking options as input/output to the chassis and generation of any clock frequency to the backplane for the VPX modules clock references.
The VTX955 provides JTAG Master Capability. Data streams sent out via the chassis JTAG Switch Module (JSM) configure arbitrary JTAG Slave devices on VPX cards. Virtual Probe services are available as an option to provide JTAG via Ethernet for Xilinx FPGAs. This allows for standard development tools such as Xilinx iMPACT/ChipScope to treat the switch/JSM combination as if it were a standard JTAG probe. This approach frees the developer from having to attach JTAG probes directly to the VPX module or JSM which can be difficult when systems are already fully assembled. It also allows for remote debugging across long distances when required without the need to install additional JTAG equipment on-site.
About VadaTech
VadaTech provides innovative embedded computing solutions from board-level products, chassis-level platforms, to configurable application-ready systems. With a focus on AdvancedTCA, MicroTCA, VPX and PCIe solutions, the company offers unmatched product selection and expertise. A unique combination of electrical, mechanical, software, and system-level expertise, enables VadaTech to provide customized commercial or rugged computing solutions to meet the most complex customer requirements. VadaTech also offers specialized product solutions for VME, CompactPCI, and other architectures. A member of PICMG and VITA, VadaTech has headquarters, design and manufacturing facilities in Henderson, NV with design, support and sales offices in Europe and Asia Pacific.
Company Contact:
Dan Marland
702-896-3337
VadaTech, Inc. www.vadatech.com