New Vibratory Process Equipment Deliver Consistent Linear Motion
Press Release Summary: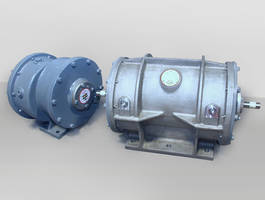 Witte's Vibratory Process Equipment is equipped with eccentric weight vibrators that adds or cancels the reactive centrifugal force depending on the angular position. Unit is suitable for use in foods, chemicals, pharmaceuticals, minerals and plastics applications.
---
Original Press Release:
Vibratory Process Equipment Features Proprietary, Eccentric Weight Vibrators for Reliable, Easy Operation
Witte Advance Designed for Consistent Motion, Simplicity, Low Maintenance

Washington, NJ: Vibratory process equipment from fourth-generation manufacturer The Witte Co., Washington, New Jersey (www.witte.com), features the company's own eccentric weight vibrators to create consistent, linear motion in a mechanically simple design with reliable, 24/7 performance and minimal maintenance. Coupling opposing sets of counter rotating weights with a gearset, the proprietary eccentric weight vibrators either add together or cancel the reactive centrifugal force based on the angular position of the weights. The result is a straight line, vibratory force that can be easily oriented, scaled up in size and/or combined to process a diverse range of foods, chemicals, pharmaceuticals, minerals, plastics, and other products. 

Included as standard equipment on the company's line of vibrating fluid bed dryers, coolers, screeners and plastic pellet classifiers, the vibration technology establishes a gentle, first-in, first-out conveying action that effectively moves the product downstream in a controlled, uniform manner. Developed and manufactured at the company's Washington, New Jersey headquarters, the vibrators are installed and tested prior to delivery and are backed by a full warranty.

For more information, contact Tyson Witte, The Witte Company, Inc.; 507 Rt. 31 South, Washington, NJ, 07882; Ph: 908-689-6500; Fax: 908-537-6806; TysonWitte@Witte.com; http://www.witte.com.
Contact: Tyson Witte at 908.689.6500, TysonWitte@Witte.com or Paul Entin at 908.479.4231; paul@eprmarketing.com
More from Printing & Duplicating Equipment