AC Motor Controllers and Drives
New VACON 3000 Drive Comes with Simplified Pre-Charge Unit Design
Press Release Summary: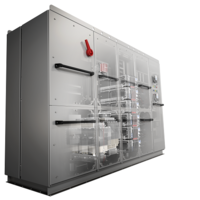 VACON® 3000 Drive is designed to medium-voltage applications between 3300 and 4160 V. Unit is offered with front-end configuration options such as diode front-end-based 12-pulse configuration and an active front end (AFE) option. VACON® 3000 is available with passive components such as LC filters for AFE variants, DC chokes for 12-pulse variants and output du/dt filters. The drive is offered with fully-graphical user interface for easy setup and use.
---
Original Press Release:
Danfoss Definite-Purpose Modular Medium-Voltage Drive Provides Offshore Industries With Reliable, Easy-to-Integrate Solution
VACON® 3000 drive enhances the existing Danfoss portfolio of low- and high-power AC drives by offering a robust and reliable solution for medium-voltage applications
Designed to meet the specific needs of industrial medium-voltage applications between 3300 and 4160 Volts, the VACON® 3000 is a modular drive solution that enables the complete customization of the enclosure to serve the unique needs of a variety of applications, including those with limited space and stringent conditions, and is currently available in powers up to 6 MW.
As an easy-to-integrate drive solution, the VACON® 3000 features:
A simplified pre-charge unit design: a compact solution for space-sensitive applications that needs no pre-charging resistors and limits the inrush current for fast, safe start-up.
Flexible front-end configuration options, including a diode front-end-based 12-pulse configuration, and an active front end (AFE) option for regenerative braking and low harmonics.
A familiar, fully-graphical user interface (same as the VACON® 100 INDUSTRIAL drive) for faster setup and use, and with the latest technology built in and a wide choice of control options.
Passive components for the drive system, including LC filters and common mode filters for AFE variants, DC chokes for 12-pulse variants, and output du/dt filters.
Simple to build in, easy-to-handle inverter units that are compact, robust, and liquid-cooled—making the VACON® 3000 ideal for adverse ambient conditions. Single-phase modules with grounded heatsink simplify the solution's serviceability.
Additionally, modules can be connected in parallel to provide the user and system integrator with design flexibility.
"We are extremely excited to offer the VACON® 3000. This solution goes beyond the common pre-packaged medium-voltage drive products on the market today and provides a modular, fully customizable, high-value solution for system integrators and OEMs," said Dan Isaksson, head of medium voltage drives at Danfoss. "As a leader in AC drives, Danfoss has now expanded its portfolio to include a wide range of reliable drives solutions — including definite-purpose drives tailored to meet application and segment specific needs. With this product, system integrators can better serve the needs of our end user customers."
Partnerships yield individual solutions and optimal service
In order to achieve the system customization required by unique customer solutions, Danfoss will work closely with experienced system partners in a highly-specialized Medium Voltage (MV) Partner network. This ensures that customers receive high-quality systems that meet specific system design requirements, as well as the highest levels of support in planning, construction, commissioning, and maintenance.
Media contact:
Lisa Tryson, Director, Corporate Communications & PR – Email: LisaTryson@Danfoss.com, Phone: +1 410 513 1142
For product information:
Stevan Zakula, Senior Product Marketing Manager – Email: Steve.Zakula@Danfoss.com, Phone: +1 414 217 8670
Related links:
http://drives.danfoss.us/products/vacon/medium-voltage-drives/vacon-3000/#/
Danfoss engineers advanced technologies that enable us to build a better, smarter and more efficient tomorrow. In the world's growing cities, we ensure the supply of fresh food and optimal comfort in our homes and offices, while meeting the need for energy-efficient infrastructure, connected systems and integrated renewable energy. Our solutions are used in areas such as refrigeration, air conditioning, heating, motor control and mobile machinery. Our innovative engineering dates back to 1933 and today Danfoss holds market-leading positions, employing more than 26,000 and serving customers in more than 100 countries. We are privately held by the founding family. Read more about us at www.danfoss.com.
Related