New uBSP microBlox Signal Splitters are Suitable for Complex Applications
Press Release Summary: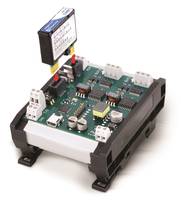 Acromag's uBSP microBlox® Signal Duplicators/Splitters are used as carrier for signal conditioning modules to drive two scalable 4-20mA or 0-10V control outputs and auxiliary 5V third output from a single input. Units come with a USB port that allows user to customize I/O ranges and scaling. The splitters can be operated from 40 to 75°C temperature range with 6-32V DC power sources and meet UL/cUL standards. Units are resistant to 25g shock and 4g vibration and offers high immune to electrical noise.
---
Original Press Release:
New Modular, Programmable Signal Splitters Offer More Flexible Solutions with Up to Three Outputs
Acromag's software-programmable microBlox signal conditioning modules can now be used to split or duplicate RTD, thermocouple, two-wire transmitter, and other input signals into multiple process control outputs.
Wixom, MI: Acromag's new uBSP signal splitter/duplicator acts as a carrier for their microBlox line of plug-in signal conditioning modules to drive two scalable 4-20mA or 0-10V control outputs and an auxiliary 5V third output from a single input. Users can select from more than ten miniature signal conditioning modules to process inputs from RTDs, thermocouples, two-wire transmitters as well as a variety of current, millivolt, or voltage sources. The interchangeable input modules snap into the uBSP carrier which provides input and output terminal blocks plus a USB port for easy software configuration from a Windows PC or Android mobile device.
"This modular, programmable approach provides an extremely flexible solution to many complex signal splitting applications," explains Robert Greenfield, Acromag's Business Development Manager. The uBSP signal splitter's USB port allows users to customize the I/O ranges, scaling, and other operations driven by the inserted microBlox signal conditioning module. The powerful configuration software is free and a common mini-B USB port eliminates the need for expensive proprietary cables or adapters to connect with your PC, smartphone, or tablet.
With the plug-in microBlox modules, users can change the input type quickly and inexpensively as requirements change. 1500V isolation safely separates the input from each output circuit to prevent damage to other instruments from surges. Two-wire transmitter input modules provide field excitation for the transmitter. RTD input modules support 2, 3, or 4-wire sensors with excitation, linearization, lead-wire compensation, and break detection functions. Thermocouple input modules support types J, K, R, S, T and E with linear or non-linear output.
To ensure reliable performance, units are highly immune to electrical noise and operate from ‑40 to 75°C. Power sources from 6-32V DC are supported to simplify battery and solar-powered applications. Units mount securely on a DIN rails with 25g shock and 4g vibration resistance. Hazardous location approvals are pending for UL/cUL Class 1 Div 2 and ATEX/IECex Zone 2 standards.
Acromag, a mid-sized international corporation, has been developing and manufacturing measurement and control products for more than 60 years. They offer a complete line of industrial I/O products including process instruments, signal conditioning equipment, data acquisition boards, distributed I/O systems, and communication devices.
For more information about Acromag products, call the Inside Sales Department at (248) 295-0880 or Marketing Communications at (248) 295-0866. You can also visit us online at www.acromag.com, e-mail sales@acromag.com, or write Acromag at 30765 S. Wixom Rd., Wixom, MI 48393-2417 USA.
Contacts: Sales - Inside Sales Department (e-mail: sales@acromag.com)
Editorial – Karen Haldenwanger, Mktg. Mgr. (khaldenwanger@acromag.com)
More from Controls & Controllers