New Turning and Machining Centres to Be Launched by Hurco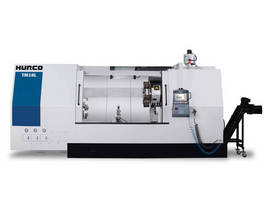 A total of eight machine tools, of which three will be on show for the first time in Europe, will be cutting metal on the Hurco stand at EMO 2011. Demonstrating the manufacturer's ever-broadening product range, the exhibits will include three different configurations of 5-axis machining centre as well as larger and multi-axis lathes.

The new machines will include the BX30U machining centre, a high-speed, 5-axis machining centre of bridge-type design with 18,000 rpm spindle and 40m/min rapids.

TM18L is Hurco's biggest lathe yet, with an 18 inch chuck, 40 kW spindle motor and a maximum 635 mm cutting diameter. The show machine will be the long-bed version of this new model with a cutting capability in excess of two metres between centres.

On show also for the first time in Europe will be the TMX8MY, part of Hurco's higher-power, more production-orientated range of turning centres, designed and built to offer more performance and more axes of control than the manufacturer's TM range.

Anyone who is used to operating the conversational rotary functions within Hurco's standard WinMax software will quickly be able to appreciate these benefits adapted to the milling capability of a Hurco turning centre. The TMX8MY is one of four TMX models incorporating a servo-driven Duplomatic turret with 12 driven, radial tools. The addition of a Y-axis allows more complex parts to be machined in a single set-up.

Although visitors from all over the world attend the EMO Hannover exhibition, it attracts huge numbers from the domestic German market, currently Hurco's biggest export market.

Given the current, buoyant market conditions, Hurco Europe expects a number of visitors from its UK and overseas markets. To provide the best support possible, there will be sales and applications engineers from the UK manning the stand for the duration of the exhibition.

Other machines on show will include two further 5-axis machining centres, VTXU and VMX42SR, the VMX30t for 3-axis prismatic machining, and driven-tool lathe, TMM10.

Hurco Europe Ltd, Halifax Road, Cressex Business Park, High Wycombe, Bucks, HP12 3SN.

Tel: 01494 442222. Fax: 01494 443350.

E-mail: sales@hurco.co.uk

Web site: www.hurco.co.uk

Contact: David Waghorn, Managing Director.

THE RIGHT IMAGE Ltd,

PO Box 42, Twickenham, TW1 1BQ.

Tel: 020 8891 0603.

E-mail: therightimage@aol.com

Contact: Chris Wright.

Related