New Trifecta-SSD Modules with up to 31 Terabytes per Slot
Press Release Summary: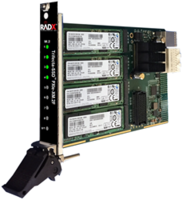 Optimized for wideband, high-speed, data recording, playback and storage applications
Sequential write/read performance > 6 GB/Sec
Provides the high performance, capacity and best value
---
Original Press Release:
RADX Announces Trifecta Family of COTS PXIe SSD RAID Modules
The RADX Trifecta-SSD Family Sets New Standards for Performance, Capacity and Value for Single-Slot, PXIe (and CPCIe) NVMe SSD RAID Modules with up to 31 Terabytes per Slot, Sequential Write/Read Performance > 6 GB/Sec and Pricing that Delivers Unprecedented Value
Austin, Texas (PRWeb) May 20, 2019
RADX Technologies® (RADX), today at National Instruments™ NI Week 2019, announced Trifecta-SSD™, a new family of COTS, PXIe (and CPCIe), single-slot, NVMe SSD RAID modules. Optimized for wideband, high-speed, data recording, playback, and storage applications, Trifecta-SSD Modules provide the highest performance, capacity, and best value (price-per-terabyte) available in the Test and Measurement (T&M) market today.
"At 1 GHz RF bandwidth per channel, LibertyGT® RF/IF Record and Playback systems write 5 GB/Sec per channel to SSD RAID, and with a 4 TB Module, we can only store 13 minutes of data," said Ross Q. Smith, RADX Co-Founder and CEO. "Our customers are asking for multiple missions and hours of record time, which would require five PXIe slots per channel. In response, we developed Trifecta-SSDs to address long duration, multi-mission, wideband record and playback requirements in a single PXIe slot. Then we priced Trifecta-SSD Modules to be affordable so that LibertyGT and non-LibertyGT customers alike won't have to compromise their recording duration specs or their budgets."
About TRIFECTA-SSD
Trifecta-SSD's PCIe Gen 3 x8 architecture combines four or eight M.2 NVMe SSDs in a single-slot PXIe/CPCIe module that supports 8, 16, or 31TB, which is 2-to-8 times greater than other single-slot SSD RAID modules. Optimized for wideband RF/IF applications, Trifecta-SSD Modules can sustain 6.9 GB/Sec sequential write performance and > 7 GB/Sec sequential read performance (depending on configuration and application). Trifecta-SSD Modules are designed to comply with key standards including RoHS, FCC Part 15 Subpart B, Class A, CE and MIL-PRF-28800F. Trifecta-SSD Modules support 64-bit Windows operating systems and select Linux distributions upon request. Trifecta-SSDs are priced at $6,999 (8TB), $13,999 (16TB) and $19,999 (31TB), which is about 1/2 to 1/3 the price-per-terabyte of competitive products. Delivery is 30 days ARO or less, beginning in Q319. For details, please visit http://www.trifecta-ssd.com.
"We initially contemplated these SSD Modules solely for our own LibertyGT Systems," said Wade Lowdermilk, RADX Co-Founder and CTO. "But given the industry need for affordable wideband storage, we thought there could be wide demand for a value-oriented, high-performance, high-capacity product. We then needed a marketing name, and because these modules are fast, good AND cheap, 'Trifecta' was the obvious choice."
Distributed By TEVET
Trifecta-SSDs will be distributed exclusively in North America by TEVET, LLC (TEVET), a Service-Disabled Veteran-Owned and HUBZone Small Business and leading supplier of T&M products, including RADX LibertyGT Systems, to prime contractors, U.S. and Allied government organizations including the DoD and DoE. For sales info, please email sales@tevetllc.com or call +1 (866) 886-8527.
"TEVET is pleased to offer the Trifecta-SSD product family to our customers," said Tracy Solomon, TEVET CEO and Founder. "COTS, high-performance data storage capabilities are critical for wideband applications and Trifecta-SSD Modules enable TEVET to meet or exceed our customer's requirements in a single-slot while remaining mindful of budgets."
At NI WEEK 2019
RADX (Booth 560) and TEVET (Booth 463) will demonstrate Trifecta-SSD products, as well as a LibertyGT LGT1410 26.5 GHz, 765 MHz RTBW Wideband RTSAs and RF Recorders and LibertyGT LGT1211 6 GHz, 1 GHz RTBW Wideband RF Capture, Record, Playback and Analysis Systems.
About RADX
RADX is a small business provider of COTS T&M and SDR solutions-- including the award-winning, LibertyGT Family of Integrated, Modular, COTS, Software-Defined, Synthetic, Real-Time, RF/IF T&M Solutions for Real-Time Spectrum Analysis, RF/IF Record and Playback, and Multifunction Communications Testers. LibertyGT Solutions are optimized for scalability, performance, technology insertion, ease-of-use and programmability that eliminate the "do-it-yourself" engineering often required with modular components. RADX is an NI Silver Alliance Partner with RF and Wireless Specialty designation with decades of experience developing real-time FPGA and GPU-based DSP solutions for T&M and SDR applications. For more info on RADX or RADX Products, please visit http://www.radxtech.com, email info@radxtech.com or call +1 (619) 677-1849 x 1.
RADX, the RADX logo and LibertyGT and Trifecta-SSD trademarks are the property of RADX. All other trademarks are the property of their respective owners. LGT RTSA-3 (ECCN 3D001) contains technology that is subject to specific US export restrictions. All specifications are subject to change without notice.
Contact Information:
Ross Q. Smith
RADX Technologies, Inc.
http://www.radxtech.com
+1 6196771849 Ext: 1
Thomas Golacinski
TEVET, LLC
http://www.tevetllc.com
+1 (866) 886 8527 132
More from Controls & Controllers