New TPE Jacketed Cables Resist Thermal Shocks and Weld Sparks
Press Release Summary: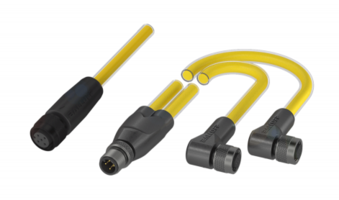 Cables are available in lengths from 0.3 m to 2.0 m with multiple connector types
Features silicone tube over molded into the head to prevent ingress
Splitters provide high-level protection of cables to I/O blocks mounted in a weld area
---
Original Press Release:
TPE-Jacketed Cables with Silicone Tubing Withstand Harsh Welding Conditions
New Balluff Cables Deliver Higher Temperature Resistance, Safeguard Against Weld Spatter
Florence, Kentucky (August 14, 2020) — Balluff's newest family of TPE jacketed cables and splitters with silicone tubing withstand the harsh conditions of welding environments. They operate in increased ambient temperatures and resist thermal shocks, weld sparks and spatter.
Thermoplastic Elastomer (TPE) jackets offer weld spark resistance and a high flex life rating of more than 10 million cycles. A silicone tube over the cable which is overmolded to the connector creates an insulating air pocket that increases the temperature resistance to up to 250ºC. The silicone tube also prevents occasional weld spatter and sparks from burning through the cable. The cable's locking nut is coated with PTFE, preventing spatter buildup that can destroy a sensor when disconnecting it.
With cables available in lengths from 0.3 m to 2.0 m and with multiple connector types, they provide the needed protection for welding applications.
Splitters in this product family come in lengths from 0.3 meters to 1.0 meters. The splitters specifically provide high-level protection of cables to I/O blocks mounted in a weld area. To access both I/O on a port you need a splitter to break out the two separate legs. Balluff's new splitter cables offer the same TPE jackets with added silicone tubes overmolded to the connectors.
This means that you can now fully utilize I/O blocks and protect cables where they are vulnerable, reducing downtime in welding cells due to cable failure.
Key features:
Operating temperature (fixed) -60…250ºC
Air inside silicone tube insulates the cable
Silicone tube overmolded into the head to prevent ingress
Resistant to thermal shocks
PTFE coated nut prevents debris from sticking
Cables lengths 0.3 m … 2.0 m; splitter lengths 0.3 m … 1.0 m.
Learn more at: www.balluff.com
About Balluff Inc.
Balluff Inc. is the U.S. subsidiary of Balluff GmbH, Neuhausen, Germany. Balluff is a leading supplier of networked IO-Link control system architectures that unlock the potential of the IIoT and Industry 4.0. Balluff offers a wide range of intelligent IO-Link and industrial Ethernet sensors in a variety of technologies including inductive, photoelectric, capacitive, and magnetic as well as magnetostrictive linear position sensors, magnetic tape linear encoders, industrial RFID systems, and industrial vision systems. Balluff provides cost-saving, process-enhancing solutions to machine builders and manufacturers to control, regulate, automate, assemble, position, and monitor manufacturing, assembly, and packaging sequences. Industries served include: automotive, packaging, food processing, beverages, tire, primary metals, conventional and alternative energy, semiconductor, plastics, and fluid power.
Contact This Company Download Spec Sheet
More from Controls & Controllers