New Touchless Switch Designed to Prevent the Spread of Pathogens
Press Release Summary: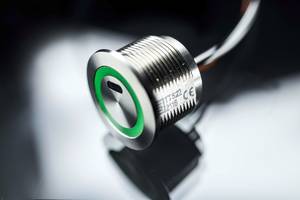 Switching current and voltage maximum of 100mA at 42 VAC / 60 VDC
Has a product lifespan of more than 20 million switching cycles
Impact resistance is IK09 and has an ingress protection rating of IP67
---
Original Press Release:
TTS Touchless Switch – Precisely Programmed for Contactless, Hygienic Switching
Santa Rosa, California, June 29th, 2021 – SCHURTER brings optical sensing to conventional switching, with its new TTS Touchless Switch. The TTS is a robust stainless-steel switch, designed for indoor or outdoor public use to prevent the spread of pathogens.
The COVID-19 pandemic has greatly raised awareness about the transmission of viruses and bacteria via surfaces, particularly as it relates to man and machine interface. This phenomenon gives rise to increased demand for touchless activation of equipment and appliances used in community accessible areas, which has consequently created demand for non-contact switches to replace conventional touch activated switching technologies.
The TTS optical ToF (Time of Flight) technology allows for precise programming of each individual switch. The standard detection distance is set at 60-0.1mm. This detection distance ensures that wiping or cleaning the switch surface does not trigger a switching malfunction.  The TTS technology is also insensitive to splashes, drips, rain or sunlight. A momentary or latching version is available. The switch is bicolor ring illuminated red/green for optical feedback. Illumination supply voltage is if 5-28 VDC. The TTS has a switching current and voltage maximum of 100mA at 42 VAC / 60 VDC. Applications include automatic door openers in hospitals, airports and transportation facilities, as well as restroom facilities within these public places. Other applications include use as a photoelectric barrier.
The TTS has a product lifespan of more than 20 million switching cycles; a benefit of no moving parts. Impact resistance is IK09. It has an ingress protection rating of IP67. Mounting diameter is 22 mm and is by means of a nut with anti-rotation protection, allowing easy installation and substitution of same sized touch switches. Laser lettering and symbols available.
Pricing for the TTS starts at just under $40.00 each at 100 pieces, packaged in boxes of 10 pieces. Links  for the TTS Data Sheet: TTS - Touchless Switch (schurter.com) and White Paper SCHURTER TTS White Paper . Sample orders can be placed through the official channel. For sales and product information, contact Cora Umlauf at (800) 848-2600 or by email at info@schurterinc.com.
About SCHURTER Inc.
The SCHURTER Group is the world's leading Swiss technology company providing components and complex solutions that ensure safe power supply and simplified equipment operation. The company's professional competence, financial independence, innovative strength and distinctive corporate culture, propel the SCHURTER Group, together with its customers and partners, into the digital future. The safe&easy brand claim not only refers to the products, but also the company's business philosophy, which strives for sustainable success through innovation, high-quality products and service, flexibility and proximity to customers.
SCHURTER is known globally as an innovator, manufacturer and distributor of fuses, connectors, circuit breakers, switches, EMC products, and input systems. Touch screens and touch panels, capacitive sensor keypads, membrane keypads and housing systems are developed in close cooperation with its customers. Within its business unit Solutions, SCHURTER combines all competencies and puts them at the customer's disposal. SCHURTER products and solutions are developed especially for specific industry segments – medical, data and communication, automotive, avionics & space, energy and the broader industrial market. SCHURTER considers the quality of its products and services as the key factor to the company's lasting success. Its management and improvement processes are designed and certified according to ISO 9001, ISO 13485, ISO 14001, ISO 45001 and IATF 16949, using the EFQM and Baldrige Excellence Models, as well as the application of Lean Management principles such as Value Stream Planning, Power Innovation, SSO, and Six Sigma.
SCHURTER Inc., Santa Rosa, California is the exclusive North America sales and distribution office for the SCHURTER Group.
Contact This Company Download Spec Sheet
More from Controls & Controllers