New Techni Indium HS Plating Eliminates the Need of Indium Strike During Nickel Plating
Press Release Summary: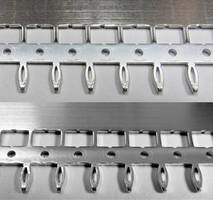 Techni Indium HS Plating offers a density ranging from 50 ASF to 250 ASF with low metal concentration. The process is used in selective plating of press fit pin connectors for preventing metallic whiskers.
---
Original Press Release:
Technic Releases Techni Indium HS for Whisker Resistant Pure Indium Plating
Cranston, RI, USA – Technic announces the release of the Techni Indium HS pure Indium plating process. This process is designed for use in the selective plating of press fit pin connectors in order to prevent the formation of harmful metallic whiskers.
Technic has performed extensive in-house and field testing of the Techni Indium HS process which has shown the electrolyte is very robust, with deposits that are exceptionally whisker resistant. The current density range of the process is extremely wide – 50 ASF to 250 ASF – with relatively low metal concentrations in the electrolyte. Unlike competitive processes, there is no need for an Indium strike when plating over nickel, which will minimize cost.
For more information on Techni Indium HS, please contact your local Technic representative.
Learn more at www.technic.com
About Technic
Technic Inc. is a Rhode Island based corporation with over 950 employees worldwide. For over 75 years, Technic has been a global supplier of specialty chemicals, custom finishing equipment, engineered powders, and analytical control systems to the semiconductor, electronic component, printed circuit board, industrial finishing and decorative industries. Technic is also a major supplier of engineered metal powders to the solar industry.
Release Contact:
Bob Sheeran
bsheeran@technic.com
401-785-8763
Related