New Table-Top and Plastic Belt Conveyor System Comes with HMI Screens and UL Listed Panels
Press Release Summary: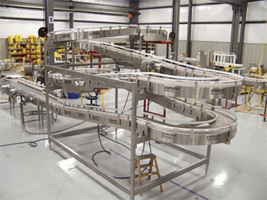 Features pneumatic pusher sweep arm accumulation tables and designed for non-round plastic bottles
Provides both inline and off-line accumulation on two (2) 200 sq. ft. accumulation tables
Tables are designed to index with every row of product and discharge in the same method, using pneumatic puller to extract each row
---
Original Press Release:
Multi-Conveyor Accumulates Non-Rounds using Pneumatic Sweeper Arm
Winneconne, WI - Multi-Conveyor (www.multi-conveyor.com) - Multi-Conveyor recently designed and engineered this stainless steel constructed table-top and plastic belt conveyor system featuring pneumatic pusher "sweep arm" accumulation tables designed for "non-round" plastic bottles.
The plastic bottles will travel from a customer supplied labeler through over 100 feet of conveyor including elevation changes of up to 21" in some areas, side transfers, and pneumatic merges, diverts, clamps and stops handling both empty bottle and full bottle accumulation along the way - ultimately ending at a case packer. 
The distinctive bi-directional accumulation tables include pneumatic stops to form a row of products at the face of the table. A pneumatic "sweep arm" will push a single row at a time onto the table when the system is in "Accumulation Mode." 
The bi-di tables are designed to index with every row of product then discharge in the same method, using a "pneumatic puller" to extract each row. The system provides both inline and off-line accumulation on two (2) 200 sq. ft. accumulation tables.
The challenge was to accumulate quart, gallon 2.5 gallon and 11 liter nearly rectangular bottle designs in one system. Standard bi-di accumulation table conveyors are used almost exclusively for round shaped product - which makes this system completely unique.
NOTE: The conveyor system has the ability to merge accumulated product back into the main line during normal production flow using the Multi-Conveyor engineered and manufactured control system of devices, sensors, HMI screens and UL listed panels.
About Multi-Conveyor
Multi-Conveyor is a leading manufacturer of standard and custom conveyor solutions for End-Users, Integrators, Engineering firms, Automation/Robotics, AI, OEM's and Contract Packagers across multiple markets. We specialize in conveyor systems for packaging or material handling for nearly every industry, product, shape and size. Our customers report they select Multi-Conveyor for concept/design, engineering skills, quality product, best value and prompt delivery.
Multi-Conveyor excels in sanitary conveyor, easy to maintain, clean-in-place or "no tools required" belt changeover systems for nearly any industry. We direct manufacture stainless steel and mild steel construction conveyors for table top chains, modular plastic belts, fabric belting and now custom MDR. Our in-house electrical and engineering departments execute the controls, panels, devices, PLCs, VFDs, HMIs, safety, inspection and sensors needed to integrate our systems with multiple packaging platforms. Quick ship plastic chain and low-profile, small transfer, pre-engineered sanitary and non-sanitary belt systems are available for quick delivery.
All of these construction designs and technologies, along with over 90 conveyor videos, can be found on our website at https://www.multi-conveyor.com.