New Sunflo P-3400 Pump from Sundyne Features Modular Shaft Assembly
Press Release Summary: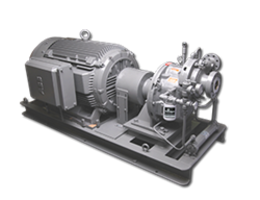 Sunflo Industrial Grade P-3400 Pump is designed for boiler feed, reverse osmosis, well injection and NOx suppression. Unit delivers flows of up to 500 gpm and heads up to 5,200 ft. The pump is equipped with heavy-duty carbon steel frame assembly, newly-designed impeller, heavy bearing system and an improved gear set for transmitting 60-percent increase in torque. Unit's modular shaft assembly reduces maintenance time downtime. The impellers come with Sundyne's suction inducer technology that eliminates pump cavitation.
---
Original Press Release:
Sundyne Expands Hydraulic Envelope of Sunflo Industrial Grade Pumps with New Sunflo P-3400
After Successful Deployments via OEM Channels, Sundyne Expands Availability of Workhorse 400 HP High-Pressure Pump
ARVADA, COLO. (PRWEB) MAY 08, 2018
Sundyne, a global leader in the design and manufacture of pumps and compressors, today announced the general availability of the integrally geared high-pressure Sunflo Industrial Grade P-3400 pump. The 400 horsepower version extends the performance of Sunflo Industrial Grade pumps by expanding the performance envelope with: 
Flows to 500 gpm (114m3/hr)
Heads to 5,200 ft (1,585m).
"The Sunflo P-3400 is our response to customer demand for an industrial grade pump that can address high-pressure in industries where Sunflo pumps are currently used – such as boiler feed, reverse osmosis, well injection, NOx suppression - or high pressure wash down applications that are common across the power generation, maritime, transportation or food and beverage industries," said the Sundyne Industrial Business Unit Leader Dustin Moran.
In engineering the new P-3400, Sundyne increased the horsepower from the maximum 250 HP of the reliable P-3000 to 400 horsepower. The new P-3400 is equipped with a heavy-duty carbon steel frame assembly, a newly-designed impeller that can withstand higher hydraulic loads, a heavier bearing system, and an improved gear set capable of transmitting a 60-percent increase in torque. These enhancements deliver a 30-percent increase in maximum head.
Like all Sunflo pumps, the P-3400 features a modular shaft assembly, simplifying repair and minimizing maintenance downtime. Robust pressure lubricated journal bearings support the rotating elements and provide the Sunflo pump with the ability to withstand system upsets that lead to failure of competitive technologies. The impellers on the P-3400 feature Sundyne's unique suction inducer technology for addressing low NPSH requirements and eliminating pump cavitation. And the single-stage design simplicity of the P-3400 offers a compact footprint that is significantly smaller than competitive pumps.
The Sunflo P-3400 technology has already established a proven track record for reliability via OEM applications by some of the largest industrial companies in the world. To learn more about Sunflo industrial grade, high-pressure pumps, contact your local Sundyne dealer or visit: http://www.sundyne.com/Products/Pumps/Legacy-Brands/Sunflo-Industrial-Grade-High-Pressure-Pumps.
About Sundyne: 
Headquartered in Arvada, Colorado, Sundyne is a leading manufacturer of highly reliable and efficient centrifugal pumps and compressors for use in oil and gas production, refining, chemical, petro-chemical, power generation and water processing industries. Sundyne is the world leader in delivering low-flow, high-head integrally geared centrifugal pumps and compressors; as well as safe and efficient sealless magnetic drive pumps. Sundyne pumps and compressors meet stringent API and ISO standards. To learn more about the Sundyne family of precision engineered pumps and compressors, please visit http://www.sundyne.com. Sundyne is owned and operated by Accudyne Industries.
About Accudyne Industries: 
Accudyne Industries is a global provider of precision-engineered flow control and compressor systems responsible for powering the world's most economically vital industries. These process-critical machines deliver unflagging performance in incredibly demanding environments, giving confidence to the mission of their customers. Today, Accudyne is powered by more than 2,800 employees at 13 manufacturing facilities. For more information, visit http://www.accudyneindustries.com.
More from Material Processing