New Spectran XFR V5 PRO Spectrum Analyzer Offers a Real-Time Bandwidth Up to 175 MHz
Press Release Summary: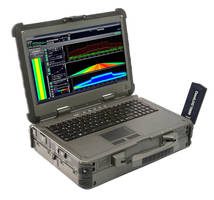 Offers 3D real-time spectrum monitoring and recording and comes with patented filter technology
Features up to 4TB ultra-fast SSD recording storage and scans 20 GHz bandwidth in less than 20 mS
Tested in accordance with MIL-STD-810G, IP65 and MIL-STD-461F standards
---
Original Press Release:
Saelig Introduces Ruggedized Spectran XFR V5 PRO Realtime Spectrum Analyzer
Rugged Windows 10-based real-time spectrum analyzer and RF recorder can continuously stream and store any signal of interest up to 20GHz in harsh field conditions
Fairport, NY: Saelig Company, Inc. announces the Spectran XFR V5 PRO Real-Time Spectrum Analyzer - a portable, rugged RF detection device designed to capture even the briefest signal transmissions. Its rapid signal acquisition scans a 20GHz bandwidth in less than 20mS, making it the world´s fastest counter-surveillance receiver. The instrument's internal GPS also indicates the precise location of the measured signals. Housed in a ruggedized, i7-based Windows 10 laptop with a sunlight-readable 15.6" display and magnesium alloy case, this analyzer is ready-to-go for covert outside field operations. The XFR V5 PRO has been independently tested in accordance with MIL-STD-810G, IP65 and MIL-STD-461F.
The easy-to-use software that runs on the XFR V5 PRO is designed for detecting unknown or illegal transmissions across a wide frequency range. With an unlimited recording time (needing only 1GB hard disk space per minute) the XFR V5 PRO can store several hours of real-time data storage. Once recorded the entire measurement data can be viewed within the software for in-depth verification, analysis, and reporting. Helpful software features such as 3D spectrogram and waterfall views allow for detailed, unambiguous analysis of real-time signal data. Now field operators can identify, capture, demodulate, and track any signal with a multitude of graphical display options to highlight the detected signals.
Fastest counter-surveillance receiver in the world
Up to 175MHz Real-Time bandwidth
Unlimited recording time (needs 1GB /min.)
Up to 4TB ultra-fast SSD recording storage
Very fast sweep mode; scans 20GHz in less than 20mS
Patented polyphase filter technology
Patented spectrum analysis (modulated LO)
First analyzer with ultra-fast LO sweeps (μS DDS sweep)
Compact and lightweight
Optional I/Q Generator (6GHz) and Power Meter (40GHz)
3D real-time spectrum monitoring and recording (gapless streaming and playback)
With the Spectran XFR V5 PRO Real-Time Spectrum Analyzer all kinds of RF challenges can be mastered, including spectrum monitoring, RF and microwave measurements, interference hunting, EMC testing, or FiFI and WLAN measurements, The XFR's extreme speed lends itself to critical counter-surveillance operations when detecting hidden cameras, RF transmitters and bugs, etc. Included with the XFR V5 PRO is an OmniLOG omnidirectional antenna, pre-installed spectrum analysis software, and an international power supply.
Made in Germany by Aaronia AG, Europe's award-winning manufacturer of RF site survey tools, hand held spectrum analyzers, antennas and EMC test probes, the Aaronia Spectran XFR V5 PRO real-Time Spectrum Analyzer is available now from Saelig Company, Inc., technical distributor for Aaronia USA. For detailed specifications, free technical assistance, or additional information, please contact Saelig 1-888-7SAELIG, via email: info@saelig.com, or visit www.saelig.com.
About Saelig Company Inc.
Founded in 1988 in Rochester, New York, Saelig is a North American distributor with a growing reputation for finding and sourcing remarkable, unique test and measurement and control products and components for use in a wide variety of industries. Products lines are continuously added from sources across the globe, and are offered at competitive prices, accompanied by full in-house technical support, exceptional customer service, and fast delivery. For full details of available product lines, please visit www.saelig.com.
Contact:
 Alan Lowne, CEO, Saelig Company, Inc. 
Tel: (585) 385-1750 Email: info@saelig.com
More from Agricultural & Farming Products