New Spark Track technology for Wire Cutting Electrical Discharge Machining
Press Release Summary: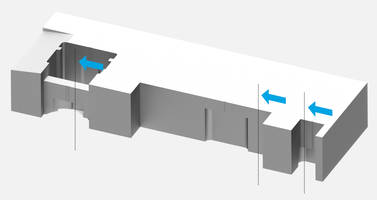 Prevents wire breakage that occurs when cutting irregularly shaped workpiece features
Eliminates need for machine operator to adjust machining process to accommodate difficult machining conditions
Automatically recognizes shape change and adjusts the process to increase machining efficiency
---
Original Press Release:
New GF Spark Track Prevents Wire Breakage for Easy, Stable EDM Processes
Lincolnshire, Ill., August 22, 2019 – Attendees of GF Solutions Days on April 2–5 in Losone, Switzerland, were among the first in the world to experience GF Machining Solutions' revolutionary new Spark Track technology for wirecutting Electrical Discharge Machining (EDM). Spark Track, powered by the company's Intelligent Spark Protection System (ISPS) module, prevents wire breakage that occurs when cutting irregularly shaped workpiece features. With Spark Track technology and the ISPS module, wire EDM users gain secure and uninterrupted EDM processing, improved machining efficiency and ease of use for operators.
The GF Machining Solutions Spark Track technology, which won the 2019 Prodex Award that honors pioneering products, harnesses modern electronics – sensor signal, speed and effectiveness – to constantly monitor the spark distribution along the EDM wire. Based on the spark data gathered, the ISPS analyzes and automatically recognizes shape changes and adapts machining parameters accordingly to prevent wire breakage during roughing. As a result, irregular shapes such as cavities, varying heights, taper surfaces and sharp corners are easily roughed without the need for operator intervention to set up machining conditions in advance. As a result of the highly secure EDM process enabled by Spark Track, customers can benefit from 100 percent automation, which in turn reduces the cost per part.
Angled part surfaces are a prime example of where Spark Track and the ISPS module bring high efficiency to the wire EDM process. Such tapered surfaces can create non-homogenous flushing conditions at a wire EDM machine's upper nozzle, disrupting the machining process. The ISPS module eliminates the need for the machine operator to adjust the machining process to accommodate such difficult machining conditions since the technology analyzes the spark distribution data, automatically recognizes the shape change and adjusts the process to increase machining efficiency.
During the GF Solutions Days event in Switzerland, the company demonstrated Spark Track and ISPS on a GF Machining Solutions' high-precision AgieCharmilles CUT 2000 S. From its mechanical concept to the machining process and wire guidance, this wire-cutting EDM solution ensures the highest precision across its entire lifetime. Each AgieCharmilles CUT 2000 S is individually calibrated and delivered with a certificate of quality attesting to its conformity with GF Machining Solutions' quality standards.
About GF Machining Solutions GF Machining Solutions is the world's leading provider of machine tools, diverse technical solutions and services to manufacturers of precision molds and tooling and of tight-tolerance, precision-machined components. The key segments we serve include the aerospace, automotive, medical, energy, information and communications technology (ICT) and electronics industries. Our extensive portfolio ranges from Electrical Discharge Machining (EDM) solutions, three- and five-axis Milling machines and Spindles, Laser texturing machines, Additive Manufacturing and machines for Laser micromachining to solutions for Tooling, Automation, Software and Digitalization—all backed by unrivaled Customer Services and support. GF Machining Solutions is a globally acting Division of the Georg Fischer Group (Switzerland) and maintains a presence at 50 locations worldwide. Its 3,394 employees generated sales of CHF 1,066 million in 2018. More information can be found at www.gfms.com.
Media Contacts:
Heather Natal
Marketing Manager
GF Machining Solutions LLC
847.955.7177
heather.natal@georgfischer.com
Chuck Bates
Vice President
dgs Marketing Engineers®
317.813.2230
bates @dgsmarketing.com
More from Machinery & Machining Tools