Rotary Positioning Stages / Tables
New Rotary Table with Stainless Steel Rotary Top Discs
Press Release Summary: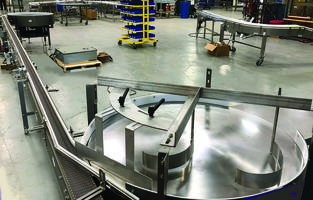 Available sizes are 36", 48" and 60" in diameter
Simple, cost-effective way to transfer bulk product to one-lane single-file conveyance
Comes with an enclosed cabinet and variable speed controls
---
Original Press Release:
Unscramble and Accumulation with Binary Rotary Tables
… with 30' of standard plastic chain in between. Very cool.
Multi-Conveyor (Winneconne, WI) - Multi-Conveyor recently built both an unscrambling rotary table and an accumulation rotary table which are connected by a 30' basic plastic straight running chain conveyor in this semi-automated conveyance application.
The first mild-steel constructed rotary accepts bulk, random hand-loaded glass containers that sweep through two deflector arms. These flexible arms gently control the cluster of individual products into single file, then onto the mat top conveyor chain.
During the 30' straight chain, labels are applied by the customer's press-on labeler (not shown) before discharging onto the accumulation table where an attached staging shelf assists manual hand-packing into cases.
Stainless steel rotary top discs feed the guided, seamless transfers that are positioned at both the unscrambler discharge and accumulation table entrance. Note: Product in this video is for demonstration purposes only.
Unscramble style rotaries are a simple, cost-effective way to transfer bulk product to one-lane single-file conveyance. Rotary accumulation tables are supplied with an enclosed cabinet and typically variable speed controls, using either DC or VFD controllers. Multi-Conveyor's standard rotary table sizes are 36", 48" and 60" diameter. Custom sizes are reviewed upon request.
Learn more about rotary accumulation and unscrambling including videos by visiting our website www.multi-conveyor.com.
About Multi-Conveyor
Multi-Conveyor is a leading manufacturer of standard and custom conveyor solutions for End-Users, Integrators, Engineering firms, Automation/Robotics, AI, OEM's and Contract.
Packagers across multiple markets. Our products are multiple and unique. No single conveyor product defines Multi-Conveyor. We specialize in conveyor systems for packaging or material handling for nearly every industry, product, shape and size. Our customers report they select Multi-Conveyor for concept/design, engineering skills, quality product, best value and prompt delivery.
Multi-Conveyor excels in sanitary, easy to maintain, clean-in-place or "no tools required" belt changeover systems for nearly any industry. We direct manufacture stainless steel and mild steel construction conveyors for table top chains, modular plastic belts, fabric belting and now custom MDR. Our in-house electrical and engineering departments execute the controls, panels, devices, PLCs, VFDs, HMIs, safety, inspection and sensors needed to integrate our systems with multiple packaging platforms. Quick ship plastic chain and low-profile, small transfer, pre-engineered sanitary and non-sanitary belt systems are available for quick delivery.
All of these construction designs, technologies and solutions, along with nearly 100 conveyor videos, can be found on our comprehensive website: https://www.multi-conveyor.com.
YouTube link to the equipment in this PR: https://youtu.be/CohbYC2SPxU
Contact Info for Publication:
Multi-Conveyor LLC
P O Box 10
Winneconne, Wl 54986
+1-800-236-7960
info@multi-conv.com
www.multi-conveyor.com
More from Material Handling & Storage