New Raptor Vac Portable Vacuum Systems Support 150-plus Vacuum Tools
Press Release Summary: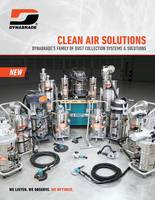 Capture dust and debris for a cleaner, safer workplace
Available in electric and pneumatic models with HEPA filter
Used in woodworking shops, fiberglass fabricators, machine shops and auto body shops
---
Original Press Release:
Dynabrade Enhances their Full Line of Clean Air Solutions and Accessories
Dynabrade, Inc., of Clarence, New York is proud to introduce our enhanced line of Raptor Vac™ Portable Vacuum Systems and Downdraft Tables. Designed to aggressively capture dust and debris for a cleaner, safer workplace! These top-quality vacuums may be utilized in a wide variety of industries, such as Woodworking Shops, Fiberglass Fabricators, Machine Shops, Auto Body Shops and more.
Raptor Vac™ Vacuums meet North American and international safety standards, and are offered in electric and pneumatic models, each with an efficient HEPA filter:
● ORDINARY LOCATION Vacuums
   Suitable for general source capture and dry cleanup on non-metallic surfaces such as woods and plastics.

● DIVISION 2 Vacuums
   Designed for workplaces where hazardous dust is not normally suspended in an ignitable concentration but may accidentally exist.

● DIVISION 1 Vacuums
   For dry-only collection where ignitable quantities of dust normally are or may be in suspension, or conductive dust may exist.

● DIVISION 1 Vacuums with Immersion Separator
   Guaranteed for safe recovery of combustible dusts, rendering hazardous material inert, using mineral oil as a neutralizing liquid.
Dynabrade offers a true plug-in-play system out of the box. Each vacuum system is equipped to support any one of our 150-plus vacuum tools. Convenient storage for tools and accessories can be found on all our Clean Air Solution products.
A variety of accessories are also available including Dry Downdraft Tables, Metal Capture Stations and Tables, Vacuum Hose Assemblies, Filter Elements, Hose and Air-Line Accessories, Vacuum Cleaning Kits and Vacuum Trays.
Dynabrade has been supplying quality industrial abrasive power tools for use in industries worldwide for over fifty years. Dynabrade, Inc., 8989 Sheridan Drive, Clarence, New York 14031-1490. (716) 631-0100. Fax: (716) 631-2073.
Contact:
Andrew Mandell
Marketing Manager 
(716) 631-0100; Ext 131
E-mail: Andy.Mandell@Dynabrade.com