New Quick Release Clamps with Receptacles Offer Compact and Safe Locking
Press Release Summary: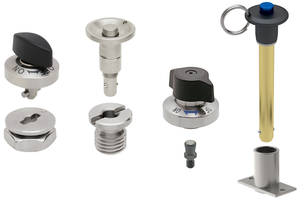 Clamps offer locating repeatability to +/- 0.1 mm
Button-locking pin can install without the need for any tools
Suitable for applications such as fastening, locating and alignment
---
Original Press Release:
New Quick Release Clamps and Ball Lock Fasteners for Quick Changeover and Frequent Set Ups
Fixtureworks® (Fraser, MI), a leading North American manufacturer and supplier of clamps, fixturing accessories, machine tool components and rollers & bumpers, now offers a complete line of quick release clamps and ball lock fasteners.
Quick release clamps and ball locking pins and fasteners have a wide range of applications in fastening, locating, and alignment. They are designed for quick changeover applications and frequent disassembly. Quick release Fastener products are offered in many styles including Button Locking Assemblies, Magnetic Clamp Receptacles, and Quarter-Turn. They are available in a variety of lengths, diameters and materials.
Quick release clamp fasteners help increase productivity by reducing set up times, eliminating errors in assembly and installation and simplifying procedures. They are ideal for frequent set ups, regularly or to reconfigure production equipment. Most specifically, these fasteners may be used in automation to attach conveyors, star wheels, guide plates, shooters, pushers, handling machine chucks, rotary blades and maintenance covers on machines, to name just a few applications. The clamps offer to locate repeatability to +/- 0.1 mm.
The ball lock pin fasteners are used to attach fixtures, plates, machine covers and more, joining components with moderate clamping force. A convenient alternative to cumbersome nut-and-bolt assembly, the new quick release fasteners provide for quick, easy and secure changeover and installation without the need for any tools.
The knob-locking clamps are easy to use and offer secure clamping. The button-locking pin series, made of stainless steel, securely locks and then releases with a press of a button. Ideal for tight workspaces, the clamping pins and magnet lock clamping pins with receptacles offer compact and safe locking.
The quarter-turn clamps come with either a plastic knob, metal knob or low-profile knob to provide flexibility for fastening operations. The bodies are made of nickel-plated steel while the pin is stainless. The plastic knob is fiberglass, and the fastener can provide clamping force to 20ft/lb.
https://www.fixtureworks.com/store/pc/quick-release-clamps-fasteners-v41.htm
Contact This Company Download Spec Sheet
More from Fasteners & Hardware