New PRO-Fit Quick Connect Fittings for Refrigerant Line
Press Release Summary: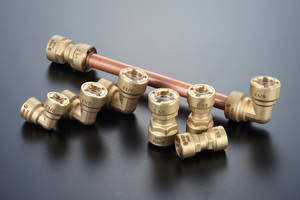 Available in five types union, 90° elbow, reducer, 90°elbow reducer, socket with diameters of 1/4, 3/8, 1/2 and 5/8-inch
Reducers and 90° elbow reducers step down from 5/8 to 1/2, 1/2 to 3/8 and 3/8 to 1/4-inch line sizes
Accommodates system pressure up to 870-PSI and are designed for both HCFC and HFC refrigerants R-22, R-410A, R-744, R-134a, R-407A and R-507
---
Original Press Release:
RectorSeal® PRO-Fit™ Product Line Adds Quick Connect Refrigerant Line Fittings
Refrigerant lines are push fit into PRO-Fit™ Quick Connect fittings within seconds without brazing, flaring or expensive crimping connection tools.
Thursday, Jan. 30, 2020 - RectorSeal®, Houston, a leading manufacturer of quality HVAC/R products, and part of the CSW Industrials, Inc. [NASDAQ:CSWI] group of companies, has added the Quick Connect push-fit, flame-free, refrigerant line brass fitting system to its PRO-Fit™ tools and accessories product line for the North America and Australia markets. Quick Connect is the new generation of refrigeration pipefitting designed for ductless mini-split and ducted unitary, single-family residential air conditioning systems. It's the HVAC/R industry's only major refrigerant fitting system that doesn't require flaring, brazing or expensive crimping connection tools.
After cutting, deburring and marking for proper depth, the refrigerant line installation requires just a few seconds to push into the fitting until the depth marking appears in the sight glass. Each Quick Connect fitting port consists of a patented factory-assembled tight-fitting double O-ring, protector, grip ring and an endcap–none of which needs to be addressed by the installer.
No special tools are required except for a reusable and inexpensive support kit that is sold separately, consisting of a pipe depth marking tool and five sizes of horseshoe-shaped release clips that disengage a connection within seconds.
Quick Connect comes in five fitting types–union, 90° elbow, reducer, 90°elbow reducer and socket–and the four most common lineset diameters of: 1/4-inch (6-mm), 3/8-inch (9-mm), 1/2-inch (12-mm), and 5/8-inch (16-mm). Quick Connect also includes 3/4-inch (19-mm) and 7/8-inch (22-mm) sizes, but only for the union and the 90° elbow fittings.
Quick Connect is UL certified and third-party tested under UL 157, UL 203, UL 250 and UL 1963. Passed test conditions include long-term helium leak, vibration, burst pressure, tensile strength, reusability, salt spray, fatigue, chemical compatibility and six other reliability tests. Quick Connect fittings accommodate system pressures up to 870-PSI and are designed for both HCFC and HFC refrigerants–R-22, R-410A, R-744, R-134a, R-407A, and R-507.
A video on a Quick Connect preparation and installation is available at https://rectorseal.com/product/pro-fit-quick-connect/.
Other Quick Connect features include:
Double O-rings' leak-resistant elastomeric materials are specifically designed and third-party certified under UL 157 test standard for minimal shrinkage (less than one percent) and swelling in R-410A/POE oil refrigeration systems;
Service valves (1/4, 3/8, 1/2 and 5/8-inch) are available on an OEM basis;
Reducers and 90° elbow reducers step down from 5/8 to 1/2-inch, 1/2 to 3/8-inch, and 3/8 to 1/4-inch line sizes;
Ideal for copper as well as coated aluminum refrigerant lines;
Separate depth marking and release clip tools are available for each of the 3/4 and 7/8-inch diameter fittings.
The 26-sku system is packaged in individual cardboard hangtag see-through bags;
Five-year limited liability product warranty;
For more information on Quick Connect or other PRO-Fit and RectorSeal products, please visit www.rectorseal.com email: [email protected]; or call 800-231-3345.
About RectorSeal:
The RectorSeal LLC, is a manufacturer of chemical, mechanical and firestopping products for the professional trades. The company is centered on a simple mission: To provide innovative solutions to the professional trades. RectorSeal wants to help professionals in the heating & cooling, plumbing, electrical and construction industries perform their work faster and with greater reliability. Founded in 1937, RectorSeal originally focused on manufacturing specialty chemical sealants. One of our first products, RectorSeal Number 5, became a staple of the plumbing industry, serving as a common thread sealant throughout the U.S. Since these beginnings, RectorSeal has continued to grow by expanding its offering of chemical and mechanical products to support the tradesman. Today, RectorSeal has developed a robust line of chemical, mechanical and firestopping products. These products are distributed through an extensive wholesale distribution network. Primary products include thread sealants, firestopping sealants, plastic pipe cements, anti-seize compounds, fluxes, lubricants, chemical cleaners, duct sealants, leak locators, and other specialized products. Many of these products have built a strong following among contractors due to their differentiated performance and from being the first to tackle challenges faced by the professional trade. For more information, visit www.rectorseal.com, email: [email protected] or call (800) 231-3345.
About CSW Industrials:
CSWI is a diversified industrial growth company with well-established, scalable platforms and domain expertise across two segments: Industrial Products and Specialty Chemicals. CSWI's broad portfolio of leading products provides performance optimizing solutions to its customers. CSWI's products include mechanical products for heating, ventilation, air conditioning, and refrigeration applications, sealants, and high-performance specialty lubricants. Markets that CSWI serves include: HVAC/R, architecturally-specified building products, general industrial, plumbing, rail, energy, and mining. For more information, please visit www.cswindustrials.com.
Contact:
Delicia Shyu
Marketing Comm. Director
RectorSeal LLC
[email protected]
(800) 231-3345
John Parris Frantz
J.P.F. Communications
(773) 871-2600
[email protected]