New Precision Modules, PSK - gen 2 with Sealed Ball Screw Assembly on Both Sides
Press Release Summary: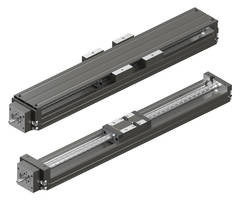 Mounted on a smooth, space-saving and rigid precision steel profile frame with integrated guide tracks
Frame is more torsion-resistant and offers high planar moments of inertia
Ideal for semiconductors, machine tool and electronics applications
---
Original Press Release:
Bosch Rexroth Precision Modules Meet Requirements for Clean Production
The new generation of precision modules are ideal for semiconductors, machine tool and electronics
With a sealed Ball Screw Assembly on both sides and an upgraded lubrication concept, the new Precision Module PSK from Bosch Rexroth – manufactured in the United States, meets the operational requirements of semiconductor production and of the electronics industry even better than before. In this new generation, designers have increased the rigidity of the frame and cover various usage scenarios in an application-oriented way with two accuracy classes.
In most applications, the focus is on ensuring that no outside contaminants get into a mechanical system, while in controlled areas and clean room production. The revised PSK ensures that no material makes it outside into the mechanical system. The precision ball screw nut and linear carriage assembly are sealed from both sides with Rexroth ball screw assembly seals. This detail significantly reduces the risk of lubricants escaping outside.
At the same time, Bosch Rexroth has expanded its lubrication concept to include four lubrication versions. The standard version comes with conventional industrial lubricant with initial greasing. It is possible to select between two different lubricants LSS standard and LSC clean room. Another option is Precision Modules connected to central lubrication systems prepared with liquid grease. Automated re-lubrication increases operational reliability, ruling out human error when manual lubrication is performed. The fourth lubrication version is a simple preservation of the Runner Blocks and Ball Screw Assemblies so that approved greases can be used.
The new generation PSK precision models are available in three sizes, and are mounted on a smooth, space-saving and rigid precision steel profile frame with integrated guide tracks. You can select which side to have a smoothed reference edge. This speeds up assembly and makes it easier to align the axis. The frame is more torsion-resistant compared to the previous models and offers higher planar moments of inertia.
Bosch Rexroth's generation 2 PSK precision modules cover various mechanical requirements in clean production from various lubrication needs, optional magnetic field sensors that can be adjusted over the entire travel distance to selectable covers for extra environmental protection. 
Additional information on the Precision Modules can be viewed in Rexroth's online tools with all options for simple configuration, and CAD download via the Rexroth eShop. See our website for all available information: www.boschrexroth-us.com/psk.
About Bosch Rexroth:
As one of the world's leading suppliers of drive and control technologies, Bosch Rexroth ensures efficient, powerful and safe movement in machines and systems of any size. The company bundles global application experience in the market segments of Mobile Applications, Machinery Applications and Engineering, and Factory Automation. With its intelligent components, customized system solutions and services, Bosch Rexroth is creating the necessary environment for fully connected applications. Bosch Rexroth offers its customers hydraulics, electric drive and control technology, gear technology and linear motion and assembly technology, including software and interfaces to the Internet of Things. With locations in over 80 countries, roughly 31,000 associates generated sales revenue of roughly 6.2 billion euros ($7.3 billion) in 2019.
To learn more, please visit www.boschrexroth-us.com. 
About Bosch:
The Bosch Group is a leading global supplier of technology and services. It employs roughly 403,000 associates worldwide (as of December 31, 2019). According to preliminary figures, the company generated sales of 77.9 billion euros in 2019. Its operations are divided into four business sectors: Mobility Solutions, Industrial Technology, Consumer Goods, and Energy and Building Technology. As a leading IoT company, Bosch offers innovative solutions for smart homes, smart cities, connected mobility, and connected manufacturing. It uses its expertise in sensor technology, software, and services, as well as its own IoT cloud, to offer its customers connected, cross-domain solutions from a single source. The Bosch Group's strategic objective is to deliver innovations for a connected life. Bosch improves quality of life worldwide with products and services that are innovative and spark enthusiasm. In short, Bosch creates technology that is "Invented for life." The Bosch Group comprises Robert Bosch GmbH and its roughly 440 subsidiary and regional companies in 60 countries. Including sales and service partners, Bosch's global manufacturing, engineering, and sales network covers nearly every country in the world. The basis for the company's future growth is its innovative strength. At 125 locations across the globe, Bosch employs some 72,000 associates in research and development.
Additional information is available online at www.bosch.com, www.iot.bosch.com, www.bosch-press.com, www.twitter.com/BoschPresse
Media Contacts:
Godfrey
Todd Walter
Gina Mudie
40 N. Christian Street
Lancaster, PA 17602
Telephone (717) 393-3831
twalter@godfrey.com
gina@godfrey.com
Bosch Rexroth Corporation
Susan Strauss
2315 City Line Road
Bethlehem, PA 18017
Telephone (610) 694-8352
susan.strauss@boschrexroth-us.com
More from Fluid & Gas Flow Equipment