New Positioners Equipped with Measuring Sensors
Press Release Summary: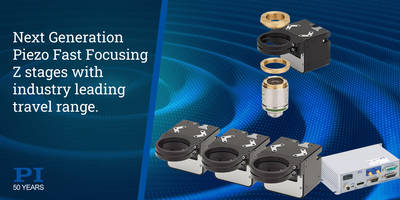 Available with travel ranges up to 800µm
Designed to scan and position objectives with sub-nm resolution at high bandwidth
New E-709 servo controller/driver with 20kHz sampling rate
---
Original Press Release:
New Piezo Motor for AutoFocus and Nano-Metrology Applications with Industry Leading Travel Range and Nanometer Precision
The next gen piezo focusing stages, new from PI, have longer travel ranges to 800µm, faster step/settle, better guiding precision, and higher resolution.
July 2021, Auburn, MA -- PI's line of lens positioners, designed to scan and position objectives with sub-nm resolution at high bandwidth, is expanding with a new generation of piezo Z-focus stages -- the P-725 PIFOC piezo flexure stage product family. Available in 3 travel ranges of 100µm, 400µm, and an industry leading 800µm, high performance fast focusing with nanometer precision is achieved for applications such as super resolution microscopy, genome sequencing, wafer metrology, digital pathology, and laser material processing. In addition to providing higher performance, the next generation P-725 stages are also easier to install, more compact, and allow for multiple unities in one microscope turret.
Equipped with direct measuring sensors for the highest linearity and stability, the frictionless piezo drive ensures rapid response, high stiffness, and a fast settling time of a few milliseconds. The computer-optimized play-free flexure guiding system enhances repeatability and focusing stability.
Piezo-Flexure-Guided Focusing Stages vs. Voice Coil -- Crossed Roller Guided Focusing Stages
PI provides both solutions, they address similar and sometimes different requirements. Piezo-flexure guided focusing stages are more compact, provide better straightness, flatness, and reduced angular errors, commonly known as guiding precision. Flexure guides are also friction-free and wear free. However, motion ranges are limited. For longer travel ranges, voice coil-driven stages with cross-roller bearings are an option, such as PI's V-308 focusing stage featuring 7mm of vertical travel and a user-adjustable counterbalance. Another option for longer travel, with frictionless, wear-free, and highly accurate guiding system is the recently introduced, A-142 small voice-coil motor driven air bearing slide.
Datasheet: Piezo Stage for Fast Focusing and Autofocus Applications»
Digital Controller with Fast Focus and Freeze, Automated Scans, Software Support
Along with the focusing stages, the new E-709 compact digital piezo servo controller/driver was designed providing 20kHz sampling rate, twice the power of its predecessor along with multiple times the resolution. Advanced features such as 4th order linearization for improved imaging quality, high speed tracking, and PI's unique Fast Focus & Freeze capability, where the unit can be bumplessly switched from an external (focus) sensor to the position sensor integrated in the focus stage allowing precise, calibrated, stable motions with respect to the focal plane. A comprehensive software package is included: drivers for LabVIEW, dynamic libraries for Windows and Linux, MATLAB, MetaMorph, µManager, etc. Interfaces include USB, SPI, RS-232 and analog. Supported functions include Wave generator, data recorder, auto zero, and trigger I/O.
Working with You
PI's in-house engineered solutions have enabled customers around the world to increase their productivity and technological advantage for 5 decades. With a large basis of proven motion technologies and methodologies, PI is in the position to quickly modify existing designs or provide a fully customized OEM solution to fit the exact requirements of your application from sensors and piezo transducers to microscope nano-focus units, fast photonics alignment systems to multi-axis automation sub-systems.
About PI
PI is a privately held company that designs and manufactures world-class precision motion and automation systems including air bearings, hexapods and piezo drives at locations in North America, Europe, and Asia. The company was founded 5 decades ago and today employs more than 1300 people worldwide. PI's customers are leaders in high-tech industries and research institutes in fields such as photonics, life-sciences, semiconductors, and aerospace.