New Plastic Tonelight Indicators Delivers Both Audible and Visual Warning Signal
Press Release Summary: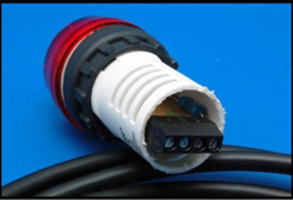 The TRIP-LB200P Plastic Tonelight Indicators are suitable for alarms, low-voltage, low-pressure, high-radiation, dangerous conditions and liquid detector applications. The products feature four-position terminal blocks-two for RED LED and two for AUDIO ALARM. The indicators are offered with lens in standard (red) and optional colors (green, yellow, orange, blue and white). They can be operated in voltages at 6, 12, 24, 36 and 48VDC and 110 and 220 VAC. The PLC pulses are used for flashing LEDs and beeping frequency of each circuit independently.
---
Original Press Release:
Transducers USA Introduces Plastic Tonelight™ Alarm with Independent Controls for Both Flashing and Beeping
Transducers USA, a leading supplier of audible signal devices, has announced the addition of a plastic warning indicator to its Tonelight™ Series. This panel-mounted device is ideal for use as a warning indicator, which delivers both an audible and visual warning signal, especially helpful when a large amount of ambient noise is present.
ELK GROVE VILLAGE, ILL. (PRWEB) DECEMBER 27, 2018 - The unique feature of the TRIP-LB200P Tonelight Model is the independent control of the two indicators. A PLC pulses the flashing LEDs and the beeping frequency of each circuit independently.
Typical applications for Tonelight indicators include most general alarm or notification applications: 
Alarms of all types
Low-voltage
Low-pressure
High-radiation
Tank-full
Dangerous Condition
High-temperature
LIQUID Detector
The TRIP-LB200P Tonelight model is IP50 rated. Beepers emit at >80 dB at 10 cm. Lens color options include red (standard); optional colors include green, yellow, orange, blue and white. These warning indicators utilize standard 22mm panel mounting (only one panel hole needed for both signals). The voltage operation for this model can include 6, 12, 24, 36 & 48VDC and 110 & 220VAC.
A NEW Tonelight is being offered that has four terminals that can be utilized to actuate the LED light and/or the audio alarm in separate modes, allowing a delay on either output. The unit has a four-position terminal block. Two terminals for the RED LED and 2 terminals for the AUDIO ALARM. With this type of actuation, either the LED or the alarm can be sequenced from an outside control circuit.
For more information on the Tonelight Series, please visit: http://www.tusainc.com.
About Transducers USA
Transducers USA produces quality audible signal devices at very competitive prices for Original Equipment Manufacturers. The company manufactures a comprehensive line of audio indicators and transducers in piezo and electro-mechanical varieties, including microphones, speakers, and ultrasonic components.
Products are manufactured in ISO-9000 and RoHS certified facilities in Asia. Transducers USA provides customer support and engineering assistance from their local headquarters in Elk Grove Village, IL. Over 1,300 production workers and 100 specialized audio engineers support Transducers USA.
In addition to hundreds of standard audible signal devices, custom products are also available at Transducers USA, based on either a customer's design or one created by Transducers USA engineers. CAD drawings and tooling will be provided at no charge for qualified orders.
Distributors and sale representatives are utilized as a channel to market. Local contacts can be found on http://www.tusainc.com.
FREE samples of Tonelight devices are available to editors for product reviews. Please send requests to the contact shown.
Contact Information
Joe Sieracki
Transducers USA
847-956-1920
Steven Bork
Nova B2B Marketing
8477786468
More from Fluid & Gas Flow Equipment