New Pilkington Pyrostop and Smartgard Glass Panels Allow for More Security
Press Release Summary: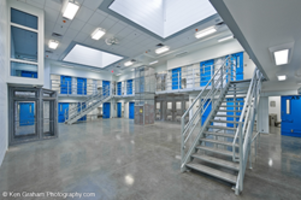 The new wall panel from Technical Glass Products and the LTI Group is fire-rated for up to 120 minutes. This protective glass offers attack and containment ratings up to 60 minutes. For extra security, it is also available with up to Level III bullet-resistance ratings. It can be used in detention centers for extra protection and safety. The glass panels can be used in both interior and exterior settings. 
---
Original Press Release:
TGP and LTI Provide Superior Fire-rated Glass and Security Solution for Detention Centers
SNOQUALMIE, WASH. (PRWEB) JULY 24, 2018
Technical Glass Products (TGP), a brand of Allegion, and The LTI Group announced the availability of a new, high-performance fire-rated glass and security solution for detention centers—Pilkington Pyrostop® laminated to Smartgard Glass®. The transparent wall panel is fire-rated for up to 120 minutes and offers attack and containment ratings up to 60 minutes in compliant fire-rated and attack-rated doors and frames. For enhanced safety, it is available with up to Level III bullet-resistance ratings.
"In detention centers, visibility and security go hand in hand. It's important not to compromise on these safeguards for the sake of fire safety," says Jeff Besse, president of LTI Smart Glass. "By laminating Pilkington Pyrostop to Smartgard Glass, it's no longer an either-or situation. The integrated assembly provides a high level of fire resistance and transparency for the ongoing safety of detention center inhabitants and corrections officers. It also delivers the containment and attack specifications that are expected in these facilities."
"Detention center design teams face the challenging task of specifying glass that can withstand premeditated, sustained attacks while also meeting stringent fire and life safety criteria," adds Devin Bowman, vice president of sales for TGP. "By combining one of the industry's top security glazing products with Pilkington Pyrostop's proven fire performance, we provide a top-level solution that addresses both needs."
The combined Pilkington Pyrostop and Smartgard Glass glazing assembly is classified and labeled with Underwriters Laboratories, Inc.® (UL) for doors, windows, sidelites and transoms. It is available for interior and exterior use.
Pilkington Pyrostop is a fire-rated and impact safety-rated glazing material that blocks radiant heat, helping protect people and valuables on the non-fire side of the glass where heat transfer might be a concern. The Smartgard Glass product line is designed to meet today's security needs for ballistic, containment, blast, and signals defense.
A brand of Allegion, TGP is your one source for fire-rated glass and framing systems, along with specialty architectural glass products. For more information on Pilkington Pyrostop laminated to Smartgard Glass, along with TGP's other fire-rated framing and glass products, visit http://www.fireglass.com or call (800) 426-0279.
About Allegion™: 
Allegion (NYSE: ALLE) is a global pioneer in safety and security, with leading brands like CISA®, Interflex®, LCN®, Schlage®, SimonsVoss® and Von Duprin®. Focusing on security around the door and adjacent areas, Allegion produces a range of solutions for homes, businesses, schools and other institutions. Allegion is a $2.4 billion company, with products sold in almost 130 countries. For more, visit http://www.allegion.com.
About The LTI Group: 
The LTI Group (LTI) is leading providers of innovative laminated glass and polymer products to a broad variety of industries, such as architectural, automotive, airline, marine, entertainment, security and industrial – among others – around the world. For more information about LTI's products and services, call (413) 637-5001 or visit http://www.ltisg.com.
More from Optics & Photonics