New PA4470.XXXNL Wire Wound Transformers are Designed for Discontinuous Mode Flyback Circuits
Press Release Summary: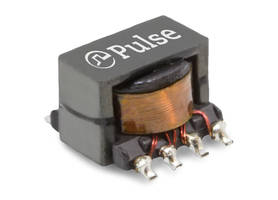 The Pulse Electronics' PA4470.XXXNL High Frequency Wire Wound Transformers are offered in ER7.5 8-Pin SMD platform with power range up to 1.8 W. The units are suitable for datacom and industrial industries such as sensor interfaces, isolated telecom converters, Power over Ethernet, motor control and industrial control applications. They come with an isolation voltage of 1650 Vdc and used in low power designs in where 3.3V, 5V, and 12V are converted from 24V or 48V bus architecture.
---
Original Press Release:
Pulse Electronics Introduces New 4470.XXXNL High Frequency Wire Wound Transformers
SAN DIEGO, Dec. 13, 2018 /PRNewswire/ -- Pulse Electronics' Power Business Unit, a leading provider of power magnetics components, introduces its new series of PA4470.XXXNL High Frequency Wire Wound Transformers. Designed to deliver high reliability and performance, the PA4470.XXXNL is a low-power transformer for use in a discontinuous mode flyback circuit which provides both the regulation and the isolation required for datacom and industrial applications.
"We're always expanding our product line to support the growing needs of our customers," said Geoffrey Wildman, Global Marketing Manager, Pulse Power Business Unit. "The addition of our PA4470.XXXNL High Frequency Wire Wound Transformers is a testament to our expertise in applications and engineering support."
The new series of transformers are ideally suited for low power isolated designs where 3.3V, 5V, and 12V is needed to be converted from 24V or 48V bus architectures. They support a variety of applications in the datacom and industrial industries. 
Key Features and Benefits: 
ER7.5 8-Pin SMD Platform
Power Range: Up to 1.8 W
Topology: Flyback
Isolation Voltage: 1650 Vdc
Easy design-in solution
Small board space
Low cost
No optocoupler needed
Applications: 
Isolated power design
Sensor interfaces
Isolated telecom converters
Power over Ethernet
Industrial Control
Motor Control
Switched Mode Power Supply
For inquiries, contact the Pulse Electronics Power Business Unit directly at: https://www.power.pulseelectronics.com/resources/support
About Pulse Electronics
Pulse Electronics is the electronic components partner that helps customers build the next great product by providing the needed technical solutions. Pulse Electronics has a long operating history of innovation in magnetics, antennas, and connectors, and can ramp quickly into high-quality, high-volume production.
Pulse Electronics serves the wireless and wireline communications, power management, industrial, medical, energy, and automotive industries, and participate in the IEEE, SFF, OIF, HDBaseT Alliance, CommNexus, NFC Forum, MoCA, and IWPC. Visit the Pulse Electronics Power BU website at www.power.pulseelectronics.com.
For more information contact:
Pulse Electronics 
Geoffrey Wildman 
Global Marketing Manager, Power Business Unit 
858-674-8356 
gwildman@pulseelectronics.com
Related