New Modular Pull Clamping System for 5-Axis Machining without Tool Interference
Press Release Summary: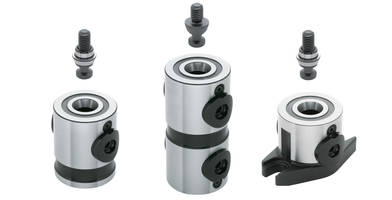 Offers quick fixture change with 0.005 mm accuracy
Allows clear access for machining from five sides
Modular clamp bodies are available in flanged, double and single types
---
Original Press Release:
5-Axis Modular System Combines Locating and Clamping
Fraser, MI -- IMAO Fixtureworks, manufacturer and supplier of workholding components, offers a Modular Pull Clamping System that allows for 5-axis machining without tool interference. This system can also be used as a mechanical zero point clamping system for quick fixture change with 0.005 mm accuracy.
While conventional fixtures may restrict machining on certain faces of the workpiece, the modular pull clamping system allows clear access for machining from five sides, eliminating the need for additional setup to machine the other sides.
Compact in size and completely modular, this versatile and simple clamping system allows easy height adjustment by stacking the modules. The pins or screws can be easily attached to the underside of a plate or a workpiece for a standardized locating.
The modular clamp bodies are offered in flanged, double, and single types for a variety of mounting configurations. Together with the bushings, tapered pins and clamping screws, this system is designed to save space and increase efficiency in a variety of clamping applications.
For vertical applications, the modular hook-type clamping system enables you to support the workpiece quickly and safely before clamping.
Specifications, CAD models, pricing and ordering are available online at www.fixtureworks.com. Customers can also request a quote or technical product assistance.
Imao is known for its innovative One Touch Clamps, One Touch Fasteners, and Flex Locators, all of which are operated with no tools for quick changeover. Fixtureworks offers a complete lineup of workholding grippers, fixture clamps, material handling rollers and bumpers, quick release pins, adjustable handles, and a variety of machine components.
https://www.fixtureworks.com/store/pc/5-axis-modular-pull-clamping-system-v18.htm