New MICHELIN Tires are Suitable for Farmers
Press Release Summary: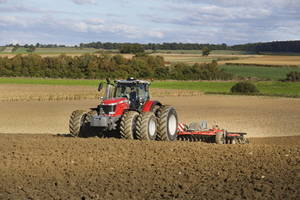 MICHELIN® Tires are offered in CrossGrip and AxioBib2 models. CrossGrip are available in 250/80R16, 400/80R24 (16.0R24), 440/80R24 (16.9R24) and 440/80R28 (16.9R28) sizes whereas AxioBib2 tires in 710/60R42 and 600/60R30 sizes. CrossGrip tires are suitable for use on loaders, backhoes, telehandlers and tractors and feature 196 tread blocks per wheel rotation. CrossGrip tires come with asymmetrical lateral blocks and are reinforced for puncture resistance. AxioBib2 tires feature a load index of 650 mm and are used of high-powered tractor loads.
---
Original Press Release:
Michelin Showcases New Agriculture/Construction Tires
GREENVILLE, S.C., July 17, 2018 /PRNewswire/ -- Ag in Motion, Western Canada's outdoor farm expo, July 17-19 in Saskatoon, Saskatchewan, will give attendees a firsthand look at two new MICHELIN® tires ─ MICHELIN® CrossGrip and MICHELIN® AxioBib2.
These tires will be showcased in lot No. 264 to demonstrate Michelin's solutions for challenges faced by today's farmer. In addition, attendees will be able to participate in a hands-on skid-steer demonstration to compare competitive solid tires with the MICHELIN® X TWEEL airless radial tires.
About the MICHELIN CrossGrip
The new MICHELIN CrossGrip is a multipurpose radial tire for road, grass and snowy conditions. Using a special rubber compound, this four-season tire is designed for high-load-capacity use on loaders, backhoes, telehandlers and tractors. The tire has a patented, non-directional tread for excellent handling in both forward and reverse gears. With 196 tread blocks per wheel rotation, the tire achieves driver comfort by reducing vibration. Asymmetrical lateral blocks help to provide good traction in winter conditions when short starting and stopping distances are imperative for safety. Reinforced for excellent puncture resistance, CrossGrip is designed to offer increased productivity and can be studded for ice usage. The tread depth has been optimized to reduce plant damage during the growing season.
"Machines need to be fully operational in all seasons with agro-industrial activities," said Justin Brock, Michelin North Americaconstruction and Tweel marketing manager. "Michelin has designed the CrossGrip specifically for year-round use ─ from snow removal to roadside mowing to warm summer days on the farm."
The CrossGrip will be available Aug. 1 in 250/80R16, 400/80R24 (16.0R24), 440/80R24 (16.9R24) and 440/80R28 (16.9R28) sizes; additional fitments will become available in 2019 and 2020.
About the MICHELIN AxioBib2
Michelin is also launching the MICHELIN AxioBib2, a high-traction capacity radial VF (very high flexion) tire for mid- and high-powered tractor loads running with low pressure on a standard wheel. CTIS-ready, the tire has the best load index (650mm) on the market(1). Farmers will have ease plowing in the furrow. AxioBib2 demonstrates exceptional field-traction performance, at pressures as low as 9 psi, due to its very high flexion carcass. MICHELIN® Ultraflex VF Technology can carry the same load at up to 40 percent lower air pressure compared with standard radial technology tires, or up to 40 percent heavier loads at the same pressure as standard radial tires, resulting in a larger footprint and reduced soil compaction (2).
"Michelin's challenge is to equip today's powerful, technically advanced machines with tires that will improve useful power transmission, agronomic efficiency and operational performance, while protecting the soil and reducing fuel consumption," said David Graden, Michelin North America agriculture operational marketing manager. "Michelin's new AxioBib2 tire provides the best solution for customer challenges on- and off- the field."
The AxioBib2 is available in 710/60R42 and 600/60R30 sizes with additional sizes anticipated in 2019.
About the MICHELIN X TWEEL
In the field demonstration area, Michelin will have two John Deere skid-steer loaders ─ one fitted with MICHELIN® X® TWEEL® SSL ALL TERRAIN airless radial tires and the other fitted with a competitor's solid skid-steer tires ─ for participants to test two mobility solutions. Participants will have the opportunity to experience hands-on, educational demonstrations. Attendees can assess ride, operator comfort, traction, handling, responsiveness, productivity and total cost of ownership.
For more information on MICHELIN Ultraflex tires, visit www.MichelinAg.com or contact your local Michelin Agriculture tire dealer.
(1) The best Load Index (LI=174=6700kg) on the market for 1.95 mdiameter tire with a 650 mm cross-section:
(2) Refer to the Load and Inflation Table in the most recent Michelin Agricultural Databook for the load-carrying capacity.
About MICHELIN NORTH AMERICA
Dedicated to the improvement of sustainable mobility, Michelin designs, manufactures and sells tires for every type of vehicle, including airplanes, automobiles, bicycles, earthmovers, farm equipment, heavy-duty trucks and motorcycles. The Company has earned a long-standing reputation for building innovative premium tires. In addition to tires, the Company also publishes travel guides, hotel and restaurant guides, maps and road atlases. Headquartered in Greenville, S.C., Michelin North America employs more than 20,000 people and operates 19 major manufacturing plants in the U.S. and Canada. Forbes magazine has ranked Michelin No. 1 on its annual survey of "Best Large Employers in America" for 2018. Learn more about purpose-driven careers with a purpose-driven company at jobs.michelinman.com.
CONTACT: For more information, contact: Mary Ann Kotlarich, Michelin North America, 864-458-4884, Email: Mary-ann.kotlarich@michelin.com | www.michelinmedia.com
Web Site: http://www.MichelinMedia.com
More from Fluid & Gas Flow Equipment