New Magnetic Couplings Use Magnetic Field for Torque Transmission
Press Release Summary: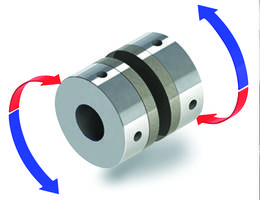 Miki Pulley's Magnetic Couplings are available in 4 models in bore sizes ranging from 8 mm – 55 mm with torques ranging from 0.3 Nm to 182 Nm. The couplings feature rare earth neodymium magnets and transmit torque by pairing opposite magnetic poles through input and output hubs. Unit's non-contact design provides vibration-less operation. The couplings come with start/stop function and are suitable for applications such as assembly systems, pumps, compressors and transmissions in closed containers.
---
Original Press Release:
Magnetic Couplings from Miki Pulley Transmit Torque with Non-Contact, Shaft-To-Shaft Connection - Also Functions as a Torque Limiter
Plymouth, Minnesota: Miki Pulley's Magnetic Couplings transmit torque from one shaft to another using a magnetic field rather than a mechanical connection.
These Magnetic Couplings are another new class of power transmission solutions from Miki Pulley. The coupling design incorporates rare earth neodymium magnets in the assembly to transmit torque. This model simply transmits torque by pairing opposite magnetic poles via the input and output hubs, without physical engagement. 
These magnetic couplings have an intended engineered torque limit at a specific air gap. The transmittable maximum torque may be adjusted by increasing / decreasing distance between coupling hubs. Depending on model, size, and installed air-gap, the magnetic couplings' upper torque limit may be exceeded without mechanical damage. The hub simply slips to the next magnetic pole, without noise or mechanical wear. This magnetically engaged, physically separated coupling is an ideal torque limiting device.
The Magnetic Couplings non-contact design is clean and quiet operating with no vibration. It has a "softer" start/stop function compared to conventional, general purpose couplings. Applications include automation including certain types of assembly systems, pumps, compressors and transmissions in closed containers.
Basic Miki Pulley Magnetic Coupling specifications are:
4 different models in multiple sizes available
Torque: 2.66 in-lbs. to 1610 in-lbs. (0.3 Nm to 182 Nm)
Bore size range: 8mm - 55mm on butt shaft configurations
See this unique Miki Pulley coupling operate at: www.mikipulley-us.com 
For more information about Miki Pulley Magnetic couplings, call Jon Davidson at 1-800-533-1731. Email: jdavidson@mikipulley-us.com The Miki Pulley US Sales Office, 13200 Sixth Avenue North, Plymouth, Minnesota 55441-5509. Fax: 763-546-8260.
Contact:
Anderson-Madison Advertising, Inc.
4600 West 77th Street, Suite 335
Edina, Minnesota 55435
952-835-5133
Email: jm@andersonmadison.com
CONTACT:  Gerald F. Madison
More from Laboratory and Research Supplies and Equipment