New IPS Display Operate at -30 to 85 degree C
Press Release Summary: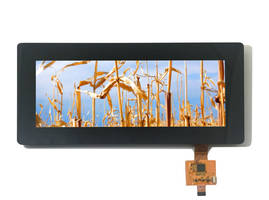 ATM1025L1-CT features resolution of 1920 x 720 and brightness of 680
Initiates high tolerance to warping and burning of the polarizer at high level of heat
Available with LVDS interface and viewing angle of 80 degrees
---
Original Press Release:
AZ Displays Announces High Resolution, High Temperature Rated 10.25 inch IPS LCD with PCAP Touch
AZ Displays continues to expand its product offering for the industrial and medical market. The newest IPS module, ATM1025L1-CT, is a unique wide aspect ratio IPS display that is designed to operate at -30 to 85°C. This LCD module has already received a lot of interest in the market for medical applications, time management systems, marine clusters, and several other designs. This 10.25" display was designed with high performance in mind, with the following specifications:
Resolution: 1920 x 720
Brightness: 680 (can be increased to 1K+)
Contrast: 1000:1
Interface: LVDS (data logic) 
Viewing: 80 degree all around (IPS)
Operating Temperature: -30°C to 85°C
Touch: PCAP
In order for the LCD module to operate at extended temperatures, AZ Displays used premium polarizers and liquid crystal fluid to initiate the active matrix into operating with minimal latency at the low temperature end (-30°C), and high tolerance to warping and burning of the polarizer at extreme heat. This quality, along with high temperature rated IC's and an option for optical bonding between LCD and touch screen make this module highly suitable for a wide array of applications and environments.
Please visit our distribution stock check page for pricing and availability. For more information on demos or samples, please contact us at [email protected].
About AZ Displays, Inc.
AZ Displays Inc., a division of ZETTLER Group, manufactures and markets a broad line of digital TFT panels and LCD modules, and is an industry leading provider of top quality display solutions in a wide range of industry applications. AZ Displays operates wholly owned engineering and manufacturing operations in Xiamen, China and has sales, application engineering and distribution infrastructures in North America, Hong Kong and Europe.
Ricardo Anaya
General Manager
949-305-3031
[email protected]
www.azdisplays.com