New IPLA 32 Planar Choke Inductor is Magnetically Shielded for Low EMI
Press Release Summary: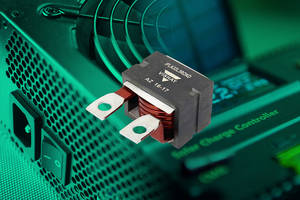 Vishay's IPLA 32 Planar Choke Inductor is available with 1 μH, 2 μH, 3 μH, and 4 μH inductance values. Unit is offered in 31 mm x 43 mm x 22.2 mm size and is rated for currents up to 110 A. The inductor provides 100 kHz to 800 kHz operating frequency range and features thermal resistance of 2 W/°C to 10.5 W/°C. Unit is suitable for forklifts, electric and hybrid cars and off-road vehicles and comes with an operating temperature ranging from 55°C to +125°C.
---
Original Press Release:
Vishay's New High Current Planar Choke Inductor Delivers Same Performance as Wirewounds in Fraction of Space
Highly Customizable IPLA 32 Targets Automotive and Embedded High Current, High Power Density DC/DC Converters
MALVERN, Pa. — June 4, 2018 — A new high current planar choke inductor that offers the same performance as wirewound devices in a fraction of the space was announced today by Vishay Intertechnology, Inc. (NYSE: VSH). The new IPLA 32 measures just 31 mm by 43 mm by 22.2 mm but is rated for currents up to 110 A, allowing high power density DC/DC converters to occupy a significantly smaller footprint.
With a recommended frequency range of 100 kHz to 800 kHz, the IPLA 32 will enable more compact and lightweight DC/DC circuitry in electric and hybrid cars, off-road vehicles including forklifts, and all manner of embedded systems. The IPLA 32 is available with standard inductance values of 1 μH, 2 μH, 3 μH, and 4 μH. Magnetically shielded for low EMI, the inductor features a high self-resonance frequency and very stable performance versus temperature.
In addition to the standard versions, the IPLA 32 can be offered with various pin-out designs, current ratings, and inductance values. The device features an operating temperature range of 55 °C to +125 °C and typical thermal resistance from 2 W/°C to 10.5 W/°C depending on the type of heatsink used. 3D models are available to assist the design-in process.
Samples and production quantities of the Vishay Sfernice IPLA 32 planar choke inductor are available now, with lead times of 12 weeks for larger orders. Pricing for U.S. delivery in 100-piece quantities is $7.70 per piece.
Resources:
Planar transformers from Vishay
Check distributor stock on the Vishay website
Weekly updates: sign up for Vishay Newsfeed
# # #
Vishay Intertechnology, Inc., a Fortune 1000 Company listed on the NYSE (VSH), is one of the world's largest manufacturers of discrete semiconductors (diodes, MOSFETs, and infrared optoelectronics) and passive electronic components (resistors, inductors, and capacitors). These components are used in virtually all types of electronic devices and equipment, in the industrial, computing, automotive, consumer, telecommunications, military, aerospace, power supplies, and medical markets. Vishay's product innovations, successful acquisition strategy, and "one-stop shop" service have made it a global industry leader. Vishay can be found on the Internet at www.vishay.com.
Editorial Contact:
Paul Harrison
Senior MarCom Manager 
Vishay Intertechnology, Inc.
Telephone: +49-9287-712808
Fax: +49-9287-712809
Email: paul.harrison@vishay.com
More from Controls & Controllers