New Induction Heating System with Frequency Range of 150-400 kHz
Press Release Summary: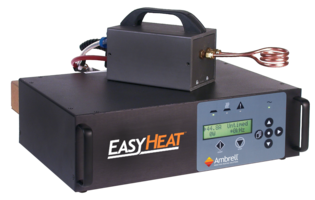 EASYHEAT Air is a compact air-cooled 500-watt system
Ideal for applications such as brazing, soldering and catheter tipping
---
Original Press Release:
Ambrell Unveils The EASYHEAT Air
This new 500 W air-cooled induction heating system is now available
Rochester, NY - Ambrell, an inTEST Company and a leading manufacturer of induction heating systems, is pleased to announce that the brand-new EASYHEATTM Air is now available. The EASYHEAT Air is a compact air-cooled induction heating system. This 500-watt system has a frequency range of 150-400 kHz and is ideal for applications such as brazing, soldering and catheter tipping.
Interested companies are encouraged to send in their samples for free parts testing at THE LAB at Ambrell, and application engineers will determine if the EASYHEAT Air is the right fit for their heating application. Virtual Lab Service is now available. For more information visit www.ambrell.com or call +1 585 889 9000.
About Ambrell
Founded in 1986, Ambrell Corporation, an inTEST Company, is a global leader in the induction heating market and is renowned for its application and engineering expertise. Exceptional product quality and outstanding service and support are at the core of the company's commitment to provide the best customer experience in the industry. Ambrell is headquartered in the United States with operations in the United Kingdom and the Netherlands. All products are engineered and made at the company's manufacturing facility in the United States, which is ISO 9001:2015-certified. Over the last three decades Ambrell has expanded its global reach through an extensive OEM and distribution network and today has more than 15,000 systems installed in over 50 countries.
Contact:
Brett Daly
bdaly@ambrell.com
Contact This Company Download Spec Sheet
More from HVAC