New IA-3134-U2i-P Relay Controller Features Built-In Watchdog
Press Release Summary: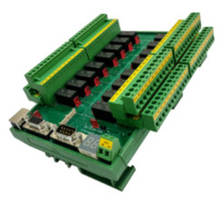 IA-3134-U2i-P Relay Controller from Online Device comes with 16, 8 and 1 relay control commands and two contacts with ratings of 2Amp at 30VDC and 0.5Amp at 115VAC. Unit is offered with RS-232 or USB communication ports. Supporting XP, Win7 and Win10, the controller is equipped with transparent multi-drop system and bundled software utilities. Unit features pluggable terminal blocks and is compliant to CE, FCC and RoHS standards.
---
Original Press Release:
IA-3134-U2i-P Same powerful Rich Feature Solution, Compact & Space Saving
Online-Devices presenting a new, space saving solution from Intelligent-Appliance.
When choosing a new relay controller and planning a new industrial automation application, there are many issues to be considered. Alongside the critical demands there are also the more technical mundane issues, such as identifying the application environmental conditions and choosing the best fitting relay board for the job accordingly.
Among the issues one must consider there is the space issue. In other words, when designing an application, one asses how much physical space is needed for the relay board within the application, depending, of course, on the number of relays needed for the specific application. While some operations are large enough to contain any relay board, some operations has limited space and need a more compact solution.
To provide a solution, Intelligent-Appliance, a leading designer and manufacturer of intelligent relay modules, specializing in Industrial Data Acquisition and Control Systems, created the IA-3134-U2i-P – a 16 channels DPDT USB or RS-232 Controlled relay board – exactly for these cases where 16 relays are enough and space is an issue.
This compact version of Intelligent-Appliance successful IA-3174-U2i-P – the 32 Channels DPDT USB and RS-232 Controlled relay board, carries all the features of the original controller in a space saving design:
16-ch DPDT Relay board
Simple operation
6 Lines wired, DPDT
2Amp@30VDC, 0.5@ 115VAC
1, 8, 16 Relays control commands
Thousands relays global commands
High speed communication
Bundled software utilities
Open source examples
Supports XP, Win7, Win10
Transparent Multi-Drop system
Built-in watchdog
DIN-Rail or Wall mount
3 Years Warranty period
Pluggable Terminal Blocks
The new space saving relay controller follows the principals set by Intelligent-Appliance in all its products. Like all IA-3000 series members, the IA-3134-U2i-P can be transparently chained, sharing the same Power Supply and resulting in latency free, slick, and efficient System.
The board is DIN-RAIL ready, and can also be wall mounted as needed.
Like all Intelligent Appliance products, the module is up to the highest standards - CE, FCC Approved, ROHS compliant.
As always, the new module comes fully supported by a software care package – rich .Net library, various open source examples, and software utilities, designed to make the integration and implementation of this module into the specific application as quick and easy as possible.
The new IA-3134-U2i-P compact module a part of the wide verity of feature rich, user friendly, and intelligent industrial relay boards developed and manufactured by Intelligent Appliance.
Additional options available:
IA-3174-U2i-P is a 32-ch DPDT version,
IA-3174-EP is a 32-ch DPDT Ethernet operated version
IA-3175-EP is an 8Amp 32-ch DPDT Ethernet operated version.
For more information, please refer to our website: online-devices.com or contact us at sales@online-devices.com
More from Fluid & Gas Flow Equipment