NEW hyperMILL 2018.2 CAM Software Comes with Latest Features to 3D Shape Z-Level Finishing
Press Release Summary: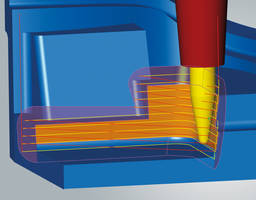 OpenMind's hyperMILL® 2018.2 CAM Software is offered with enhancement in 3D optimized roughing and CAD functionality. Automatic face extension option is used during CAM programming that automatically extends selected milling surfaces. The software uses free geometries of the cutting tool edge for calculation, simulation and collision checking. The hyperCAD®-S module comes with the ability to measure and record distances between two shapes like face models, solids, meshes or stock.
---
Original Press Release:
New Hypermill® 2018.2 CAM Software Offers Increased Machining Efficiency
NEEDHAM, MA U.S.A. (July 20, 2018) – OPEN MIND Technologies AG (www.openmind-tech.com), a leading developer of CAD/CAM software solutions worldwide, has introduced hyperMILL® 2018.2, the latest version of its advanced, comprehensive CAM software. hyperMILL® 2018.2 offers a range of enhancements and new features for 3D Shape Z-level Finishing and 3D Optimized Roughing, greater CAD functionality and more.
For reduced programming times and improved milling, 3D Z-level Shape Finishing, available in hyperCAD®-S, has two new features. "Automatic face extension" can be used during CAM programming to automatically extend the selected milling surfaces, eliminating manual CAD work and resulting in cleaner corner cuts. Also, 3D Z-level Shape Finishing now has the ability to support conical barrel cutters in addition to general and tangential cutters.
During 3D Optimized Roughing, multiple allowances are now recognized and accounted for when using free tool geometries, resulting in easier programming and a high level of flexibility for defining special tools. hyperMILL® 2018.2 can define different allowances and adapt the machining process accordingly. High-feed cutters have a special cutting geometry that is easy to define using tool management, and hyperMILL® 2018.2 uses the free geometries of the cutting tool edge for calculation, simulation and collision checking.
"Keeping the hyperMILL® suite at the forefront of CAM technology, we are pleased to offer our customers improved CAM strategies and enhanced CAD tools for even greater machining productivity through our new release of hyperMILL® 2018.2," said Alan Levine, Managing Director of OPEN MIND Technologies USA, Inc.
New hyperMILL® 2018.2 functionality also includes several enhancements to its hyperCAD®-S module, including the ability to measure and record the distances between two shapes such as face models, solids, meshes or stock. In addition, for easy changes to milling boundaries and turning contours, hyperMILL® 2018.2 offers a 'V sketch' command that assigns geometric constraints to 2D contours. When individual contours are changed, the sketch is automatically updated using their dependencies.
The electrode module, which provides quick designing of die-sinking electrodes, offers a new Virtual Electrode function for securely creating electrode copies which are checked for collisions, and can be assigned new technology values or the values of the master electrodes. For easier analysis, the reference system and eroding position for each electrode copy are included in a report.
About OPEN MIND Technologies AG
Headquartered in Germany, OPEN MIND is one of the world's leading developers of powerful CAD/CAM solutions for machine and controller-independent programming. The company develops optimized CAD/CAM solutions that include many innovative features unavailable elsewhere, to deliver significantly higher performance in both programming and machining. Strategies such as 2.5D, 3D, as well as 5-axis milling, mill/ turning, and machining operations like HSC and HPC, are efficiently designed into the hyperMILL® CAM system, providing maximum user benefit and compatibility with all current CAD solutions and extensive programming automation. OPEN MIND strives to be the best, most innovative CAD/CAM developer in the world, and has earned the top five ranking in the CAD/CAM industry according to the 2017 NC Market Analysis Report by CIMdata. OPEN MIND CAD/CAM solutions meet and exceed the requirements of the most demanding industries such as automotive, tool and mold manufacturing, production machining, medical, job shops, energy and aerospace industries, and is represented in all key markets of Asia, Europe and the Americas. OPEN MIND is a Mensch und Maschine Company. http://www.mum.de/ For more information visit www.openmind-tech.com.
Editorial
Michael McCue
Contact:
McCue & Associates LLC
978-733-1353
OPEN MIND Contact:
Alan Levine
OPEN MIND Technologies USA, Inc.
339-225-4557
More from Cleaning Products & Equipment