New High-Power HP-ATA-115B Terminal Blocks from Blockmaster Can Be Mounted on DIN Rails and Panels
Press Release Summary: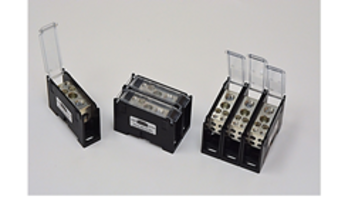 Blockmaster's new rugged terminal blocks are high powered, with 115 amp and 600 volt ratings. The blocks, which are modular, can be  snapped together to create a block with one to four poles, and include the option of clear plastic covers. Their applications include power panel, control panel, HVAC, generator, alternative energy, switch gear, elevator, and CNC equipment uses.
---
Original Press Release:
Blockmaster Introduces New 115A / 600V High-Power Modular Terminal Blocks
BlockMaster Electronics, a leading supplier of terminal blocks for electrical and electronic distribution, introduces a new line of rugged, high power modular terminal blocks in 1-, 2-, 3-or 4-pole configurations.
ELK GROVE VILLAGE, ILL. (PRWEB) NOVEMBER 27, 2018
The new High-Power HP-ATA-115B Modular Blocks from BlockMaster simply snap together to create a block with 1 to 4 poles. They are suitable for DIN rail or panel mounting. Both the modular feature and the block's mounting capabilities are totally unique in the market, unavailable anywhere else.
These interlocking style blocks feature a low profile and are available with an optional clear plastic cover for protection and safety. These high-power modular blocks are rated 115 Amp and 600 Volt for electrical applications in power panel distribution. Therefore, they are ideally suited for applications such as: 
    -Industrial Control Panels
    -HVAC Equipment
    -Standby Generators
    -Alternative Energy
    -Switch Gear
    -Elevator Equipment
    -CNC Equipment
Features and specifications for the new HP-ATA-115B High Power Modular Terminal Blocks include: 
Rated Voltage: 600V 
Rated Current: 115A 
Screw Size/Torque: 
LINE SIDE         
5/16 – 24UNF 
2 ̴ 3 AWG / 50 Lb./In         
4 ̴ 6 AWG / 94 Lb./In 
8 AWG / 40 Lb./In 
10 ̴ 14 AWG / 35 Lb./In 
LOAD SIDE 
8 – 36UNF 
10 ̴ 18 AWG / 7 Lb./In 
Operating Temperature: -20⁰C to + 125⁰C 
Housing: PBT (UL90V-0) 
Cover: Polycarbonate (UL94V-2) 
Terminals: Aluminum 
Withstanding Voltage: AC 2,500V / 1 Min. 
RoHS compliant
For more information, visit http://www.blockmaster.com or call BlockMaster at 847-956-1680.    
Free samples will be provided upon request to editors of related trade publications. Contact Paul Slattery at 847-956-1680 or pauls@blockmaster.com.
About BlockMaster Electronics, Inc.
BlockMaster Electronics has provided innovative interconnect and terminal block solutions to electrical and electronic OEMs since 1994. The company has low-cost, high-quality manufacturing capabilities and can provide reliable products from stock.
A distinct competitive advantage that BlockMaster offers its customers includes the ability to make modifications in-house to its terminal blocks based on customer requirements. BlockMaster's Value-added Center provides the ability to fabricate, modify and print legends on our blocks at our Illinois facility for quick turnaround.
BlockMaster Electronics manufactures terminal blocks from 1 to 380 amps, including PCB styles blocks up to 150 amps and PCB screw terminals from 30 – 150 amps. The company offers over 9,500 P/Ns including PCB, Feed-through and Power Distribution types. BlockMaster's Value-added Center can also provide quick turnaround on prototypes.
More from Electrical Equipment & Systems