New High Power Blocks Rated at 90 Amps and 600 Volts
Press Release Summary: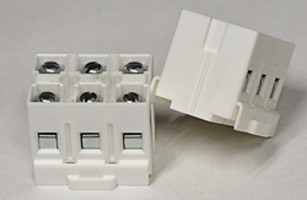 The HP-RTG-C is a 3-pole high-power block from BlockMaster Electronics. It is rated at 90 Amps and 600 Volts for electrical applications in power panel distribution. The terminal block is applicable to panels, CNC equipment, standby generators, switch gears, HVAC equipment, water pumps and other industrial applications. It complies with UL, CSA, and RoHS standards and operates at temperatures from -25 to +150 degrees Celsius.
---
Original Press Release:
BlockMaster's New 3-Pole High-Power Feed-Through Block for DIN Rail & Panel Mounting
ELK GROVE VILLAGE, Ill. (PRWEB) October 17, 2018
The new HP-RTG-C 3-pole high-power block is rated at 90 Amps and 600 Volts for electrical applications in power panel distribution.
This new rugged block is well suited for high power distribution in electrical panels. This 90 Amp / 600 Volt High Power Block snaps onto a DIN rail or mounts onto a panel.
Applications include:
    Panels
    CNC equipment
    Standby generators
    Switch gear
    HVAC equipment
    Water pumps
    Other industrial & commercial applications
Multiple HP-RTG-C power blocks may be ganged together or used individually. Its termination accommodates 2 to 12 AWG wire and is configured as follows:
LINE SIDE        LOAD SIDE
¼-28 UNF Slot        ¼-28 UNF Slot
The HP-RTG-C High Power terminal block complies with UL and CSA Standards, as well as RoHS, and features:
    Rated: 600 Volts, 90 Amps
    Operating Temperature: -25° C to +150° C.
    Housing: PA 66 (UL94V-0)
    Terminals:
        Copper – Current conducting plate
        Stainless Steel – Terminal frame
    Withstanding Voltage: AC 2,500 V
For more information on BlockMaster's High Power Block Series, go to: http://www.blockmaster.com, or see the catalog at: http://www.blockmaster.com/css_site/images/high_power_brochure/TowerOfPowerAddendumFullCatalog.pdf
About BlockMaster Electronics, Inc.
BlockMaster Electronics has provided innovative interconnect and terminal block solutions to electrical and electronic OEMs since 1994. The company has low-cost, high-quality manufacturing capabilities and can provide reliable products from stock.
A distinct competitive advantage that BlockMaster offers its customers includes the ability to make modifications in-house to its terminal blocks based on customer requirements. BlockMaster's Value-added Center provides the ability to fabricate, modify and print legends on our blocks at our Illinois facility for quick turnaround.
BlockMaster Electronics manufactures terminal blocks from 1 to 380 amps, including PCB styles up to 130 amps. The company offers over 9,500 P/Ns including PCB, Feed-through and Power Distribution types. BlockMaster's Value-Added Center can also provide quick turn around on prototypes.
More from Material Processing