New High Current Choke for Printed Circuit Board Mounting
Press Release Summary: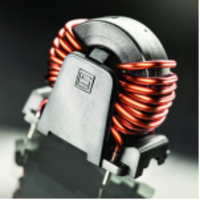 DKIV-1 available with a ferrite core for a wide range of rated currents from 10 to 50 A
Improves heat dissipation with operating temperature range from -40 to +100°C
Suitable for frequency converters, charging stations and switching power supplies applications
---
Original Press Release:
High Current Choke DKIV-1 Phase in Vertical Design
Santa Rosa, California, April 28, 2021 – SCHURTER expands its range of currentcompensated chokes for printed circuit board mounting, to include a vertical design for 1-phase high current applications. The new DKIV-1 sports a compact design and smaller footprint due to its vertical orientation. The series is available with a ferrite or nanocrystalline core for a wide range of rated currents from 10 A to 50 A.
Like all other aspects of today's electronic design, the power circuit is oftentimes built using discrete components on printed circuit boards. With the trend toward integrating components, to achieve smaller and smaller form factors, thermal problems and high current on the PCB can become a challenge. Traditional block filters might well address these challenges, but their larger package size also presents challenges due to the mentioned space constraints; therefore, an effective asymmetrical common mode choke, together with capacitors mounted on the PCB, offer a better solution.
The DKIV-1 series is suitable for use in any application requiring EMC asymmetrical inductance. Application examples include frequency converters, charging stations, UPS systems and switching power supplies. The DKIV-1 is an ideal solution for multistage filter applications, where the combined use of a vertical choke (DKIV series) and a horizontal choke (DKIH series) reduces the mutual interference of the magnetic fields caused by the individual chokes. Even at the max. rating of 50 A, the DKIV-1 series chokes require a small footprint to accommodate its THT terminals on the PCB, thus saving valuable board space without compromising performance. The open design makes the chokes particularly lightweight. It also optimizes heat dissipation. Temperature range is -40°C to +100°C.
The DKIV-1 series current-compensated chokes comply with IEC 60938. The rated current range of 10 to 50 A is rated 300 VAC according to IEC and UL, 250 VAC according to CSA. They are also rated 450 VDC and carry ENEC and cURus approvals.
Pricing for the DKIV-1 series starts at about $8.60 each per 100 pieces. Packaging is 40/20 pieces per box, depending on rated current. SPICE simulation models are available. Link to datasheet DKIV-1. For sales and product information, contact Cora Umlauf at (800) 848-2600 or by email at info@schurterinc.com
About SCHURTER Inc.
The SCHURTER Group is the world's leading Swiss technology company providing components and complex solutions that ensure safe power supply and simplified equipment operation. The company's professional competence, financial independence, innovative strength and distinctive corporate culture, propel the SCHURTER Group, together with its customers and partners, into the digital future. The safe&easy brand claim not only refers to the products, but also the company's business philosophy, which strives for sustainable success through innovation, high-quality products and service, flexibility and proximity to customers.
SCHURTER is known globally as an innovator, manufacturer and distributor of fuses, connectors, circuit breakers, switches, EMC products, and input systems. Touch screens and touch panels, capacitive sensor keypads, membrane keypads and housing systems are developed in close cooperation with its customers. Within its business unit Solutions, SCHURTER combines all competencies and puts them at the customer's disposal. SCHURTER products and solutions are developed especially for specific industry segments – medical, data and communication, automotive, avionics & space, energy and the broader industrial market. SCHURTER considers the quality of its products and services as the key factor to the company's lasting success. Its management and improvement processes are designed and certified according to ISO 9001, ISO 13485, ISO 14001, ISO 45001 and IATF 16949, using the EFQM and Baldrige Excellence Models, as well as the application of Lean Management principles such as Value Stream Planning, Power Innovation, SSO, and Six Sigma.
Editorial Contact:
Jade May
jade.may@schurter.com
Contact This Company Download Spec Sheet
More from Construction Equipment and Supplies