New Grid Energy Storage Subsystem from Maxwell Delivers Long Life Grid Voltage and Frequency Support Solutions
Press Release Summary: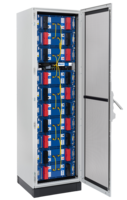 The Maxwell's Grid Energy Storage Subsystem is used with SVC PLUS FS that offers inertia in the form of fast, active power injection. The SVC PLUS FS stabilizer feeds required reactive power for stable grid operation in less than 50 ms. The ultracapacitors can store up to 200 MW of electric power and transferred to the grid. The ultracapacitors from Maxwell provides support for grid voltage and frequency.
---
Original Press Release:
Maxwell Technologies Announces Ultracapacitor Grid Energy Storage Subsystem Design-In with Siemens Transmission Solutions to Stabilize Global Power Grids
System designed to ensure grid stability in transition to new energy generation mix
SAN DIEGO, Sept. 5, 2018 /PRNewswire/ -- Maxwell Technologies, Inc.(Nasdaq: MXWL), a leading developer and manufacturer of energy storage and power delivery solutions, today announced a grid energy storage subsystem design-in with Siemens to deliver economical, fast responding, long life grid voltage and frequency support solutions. The new Siemens Static VAR Compensator plus Frequency Stabilizer (SVC PLUS FS) enables ISOs, electric utilities and transmission system operators to have better control of their grids and reduce the risk of blackouts.
The combined effect of the rapid increase in solar and wind electricity generation with the decommissioning of traditional coal and gas-fired power plants runs the risk of increasing momentary grid imbalances due to less inertia in the grid. Power loss caused by these imbalances can result in significant economic damage for electricity consumers, as they may be dropped from the grid during periods of system instability.
The grid system inertia deficit is directly addressed in Siemens' SVC PLUS FS through the use of ultracapacitor (supercapacitor) energy storage. Maxwell's Grid Energy Storage Systems are an integral design element in the SVC PLUS FS that provide system inertia in the form of fast, active power injection, which bridges the time gap between grid disruption and the activation of secondary power reserves. The SVC PLUS FS can feed the reactive power needed for stable grid operation in less than 50 milliseconds. At the same time, up to 200 megawatts of electric power stored in the ultracapacitors can be transferred to the grid.
Due to their rapid response time at high power levels, long lifetime, and minimal maintenance, Maxwell ultracapacitors were selected as the energy storage asset of choice to provide grid frequency and voltage support. Moreover, due to the high power density of the ultracapacitor subsystem, the SVC PLUS FS takes up about two-thirds less space than a comparable battery storage solution at the reference power of 50 megawatts.
"Through a rigorous evaluation of various energy storage technologies and manufacturers, it became clear that Maxwell was the best partner for integration in the SVC PLUS FS solution based upon their capability to design and engineer grid-scale systems utilizing their field-proven commercial supercapacitor technology," said Alexander Rentschler, head of product lifecycle management for transmission solutions at Siemens. "We look forward to deploying SVC PLUS FS, enabled by Maxwell's Grid Energy Storage Systems, that will provide grid operators with an efficient and future-proofed solution to maintain grid power stability and enable more renewable power generation."
SVC PLUS FS built by Siemens and enabled by Maxwell Technologies' ultracapacitor solution secures the energy and bridging reserves necessary to provide protection against emergency grid system imbalances. As a result, grid reliability increases and the operational expenses for fossil based, short duration must-run generation, as well as GHG and CO2 emissions, are reduced. Further, the system is highly adaptable and flexible in the face of evolving grid demands. If additional power is required, grid operators can install additional ultracapacitor subsystems at a lower cost than investing in fossil-based reserve capacity or keeping older power stations operating in an inefficient stand-by mode.
"The Siemens partnership further validates Maxwell's strategic expansion into grid system products and the market demand for fast responding, long asset life, ultracapacitor grid energy storage," said Thibault Kassir, vice president and general manager of energy storage at Maxwell Technologies. "The SVC PLUS FS system is a breakthrough FACTS solution for grid operators, as they are faced with increased pressure to be more efficient and enable more solar and wind energy generation. We are very excited to be the chosen energy storage provider to Siemens in the deployment of their advanced systems."
For additional information on Maxwell ultracapacitor grid energy storage systems, please visit: http://www.maxwell.com/gess.
For additional information on the Siemens SVC PLUS Frequency Stabilizer, please visit: http://www.siemens.com/frequency-stabilizer.
About Siemens AG
Siemens AG (Berlin and Munich) is a global technology powerhouse that has stood for engineering excellence, innovation, quality, reliability and internationality for 170 years. The company is active around the globe, focusing on the areas of electrification, automation and digitalization. One of the world's largest producers of energy-efficient, resource-saving technologies, Siemens is a leading supplier of efficient power generation and power transmission solutions and a pioneer in infrastructure solutions as well as automation, drive and software solutions for industry. With its publicly listed subsidiary Siemens Healthineers AG, the company is also a leading provider of medical imaging equipment – such as computed tomography and magnetic resonance imaging systems – and a leader in laboratory diagnostics as well as clinical IT. In fiscal 2017, which ended on September 30, 2017, Siemens generated revenue of €83.0 billion and net income of €6.2 billion. At the end of September 2017, the company had around 377,000 employees worldwide. Further information is available on the Internet at www.siemens.com.
About Maxwell Technologies
Maxwell is a global leader in the development and manufacture of innovative, cost-effective energy storage and power delivery solutions. We have developed and transformed our patented, proprietary and fundamental dry electrode manufacturing technology that we have historically used to make ultracapacitors to create a breakthrough technology that can be applied to the manufacturing of batteries. Our ultracapacitor products provide safe and reliable power solutions for applications in consumer and industrial electronics, transportation, renewable energy and information technology. Our CONDIS® high-voltage grading and coupling capacitors help to ensure the safety and reliability of electric utility infrastructure and other applications involving transport, distribution and measurement of high-voltage electrical energy. For more information, visit www.maxwell.com.
Maxwell Technologies Contacts:
Media: John Sperrazzo, Eye-To-Eye Communications: +1 (858) 361-4495; john@eyetoeyepr.com
Investor: Kimberly Tom, CFA, Maxwell Technologies: +1 (858) 503-3368; ir@maxwell.com
Sales & Technical: Maxwell Technologies: +1 (858) 503-3300
More from Electrical Equipment & Systems