New Fluid Dispensing System Combines High Accuracy Fluid Dispensing
Press Release Summary: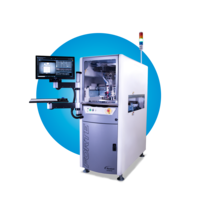 Available with stable chassis and new electrical and mechanical architectures
Delivers units per hour gain of 20-50% high productivity through swift acceleration and improved motion control
Handles flex circuit and printed circuit board assembly, electro-mechanical assembly, MEMS, precise coating and encapsulation
---
Original Press Release:
Nordson ASYMTEK's Forte Series Increases Fluid Dispensing Precision, Accuracy, and Throughput
New Canvas® software provides powerful process control capabilities with simplified programming
Carlsbad, CA, USA - 13 August 2019 - Nordson ASYMTEK, a Nordson company (NASDAQ: NDSN) and global leader in dispensing, jetting, and coating equipment and technology, introduces its Forte™ Series fluid dispensing system. The Forte Series combines high accuracy fluid dispensing with increased throughput and productivity in a narrow footprint to handle applications such as flex circuit and printed circuit board assembly, electro-mechanical assembly, MEMS, underfill, precise coating, and encapsulation.
"To meet our customers' needs for reducing total cost-of-ownership while delivering the highest quality and production yield, Nordson ASYMTEK has fused technologies from our most advanced fluid dispensing system, proven features from our top-selling dispensing platform, and latest-generation Canvas® software in the new Forte Series," explained Garrett Wong, senior product manager, Nordson ASYMTEK. "It used to be the old trade-off between speed, performance, and price, but with Forte, that's definitely not the case."
With a highly stable chassis and new electrical and mechanical architectures, the Forte Series delivers units per hour (UPH) gain of 20-50% higher productivity through swift acceleration and improved motion control. A dual-valve-ready design allows you to simultaneously run two high-frequency IntelliJet® Jetting Systems to further boost UPH and quality outcomes - reducing dispense time by half. Moving with blazing fast 1.5G acceleration, dual IntelliJet jets dispense highly accurate fluid volumes quickly, while the patented real-time skew correction automatically adjusts for workpiece rotational skew. The added stability in the chassis accommodates fast motion in the x, y, and z axes without sacrificing placement accuracy.
Nordson ASYMTEK's Canvas® software delivers a completely new interface that simplifies programming and provides powerful insight and control over the dispensing process. Graphical programming lets you scan a workpiece, develop your program on or offline, and simulate the dispensing results on a virtual canvas. Guided wizards provide easy step-by-step setup instructions and quick-reference graphing and data tiles allow control of how system sensor and process data are displayed.
The integrated dual-valve service station, patented closed-loop process controls, and nozzle cleaning rail reduce operator maintenance and intervention. Along with Forte's space-saving 600 mm (conveyor rail end-to-end) x 1374 mm (23.6 in. x 54.1 in.) footprint, Nordson ASYMTEK once again delivers a complete package for high quality, low-maintenance, and reliable dispensing with competitive low total cost-of-ownership.
See the Forte system and discuss your application with the Nordson ASYMTEK experts at NEPCON Asia (formerly South China), being held at the Shenzhen Exhibition & Convention Center, Shenzhen, China, August 28-30 in booth 1H20.
For more information contact Nordson ASYMTEK at info@nordsonasymtek.com, call +1 760-431-1919, or visit our website: www.nordsonasymtek.com. 
About Nordson ASYMTEK
Nordson ASYMTEK, a world leader in precision fluid dispensing, conformal coating, and jetting technologies, designs and manufactures dispensing and coating systems, supported by an award-winning global applications and service network for over 35 years. To find out more, visit www.NordsonASYMTEK.com, or on social media.
About Nordson Corporation
Nordson Corporation (Nasdaq: NDSN) is one of the world's leading producers of precision dispensing equipment that applies adhesives, sealants, coatings, and other materials to a broad range of consumer and industrial products during manufacturing operations. The company also manufactures equipment used in the testing and inspection of electronic components as well as technology-based systems for curing and surface treatment processes. Headquartered in Westlake, Ohio, Nordson has direct operations and sales support offices in more than 30 countries. 
For information:
Contact:
Nordson ASYMTEK:
Roberta Foster-Smith
Tel: +1.760.431.1919
Email: roberta.foster-smith@nordsonasymtek.com
Agency:
Andrea Roberts
AR Marketing
Tel: +1.858.204.9584
Email: andrea@armarketinginc.com
More from Agricultural & Farming Products