New FLEX 5000 I/O Modules Helps Future-Proof Control Systems for Connected Enterprise
Press Release Summary: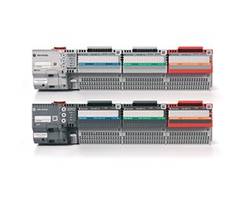 Creating smarter, productive and flexible industrial control systems, FLEX 5000 I/O modules come with simplified wiring and design. Built on 1 Gigabit architecture with communications supporting Device Level Ring (DLR), linear and star topologies, modules are designed to operate in extreme environments (-40 C to 70°C). Boasting of flexible architecture including vertical and horizontal mounting and copper and fiber media options, units can reduce costly and unplanned downtime, enabling users to configure alarms, events and diagnostics at the channel level.
---
Original Press Release:
FLEX 5000 I/O Modules Bring Greater Productivity and Flexibility to a Connected Enterprise
The next-generation FLEX I/O platform supports real-time, intelligent process control
MILWAUKEE, June 21, 2018 — The new Allen-Bradley FLEX 5000 I/O platform from Rockwell Automation can create smarter, more productive and more flexible industrial control systems. 

The platform's higher-speed connectivity and expanded bandwidth deliver increased amounts of data back to the controller. This helps future-proof control systems for a Connected Enterprise. It is built on a 1 Gigabit architecture with communications supporting Device Level Ring (DLR), linear and star topologies. A future release will support Parallel Redundancy Protocol (PRP) for a redundant network topology.

Both OEMs and process operations can also use the new FLEX 5000 I/O modules to improve productivity. Engineering time is reduced with simplified wiring and design. Installation is eased with a flexible architecture that includes vertical and horizontal mounting and copper and fiber media options. Hardware requirements can be minimized during installation because the modules are designed to operate in extreme environments – from oilfields in the arctic cold to mines in the sweltering heat (-40 C to 70 C operating temperatures).

During production, the modules can also reduce costly and unplanned downtime, especially in continuous process-control applications. Removal and insertion under power (RIUP) allows technicians to replace existing I/O, and an online change capability allows configuration of new I/O, both while the system continues to run. In addition, the flexibility to configure alarms, events and diagnostics at the channel level helps drive maintenance efficiency.

"We are building on the success of our popular FLEX I/O platform, and long-time users will find that flexibility and reliability continue to be its hallmark," said Rosh Chathoth Sreedharan, product manager, Rockwell Automation. "With Logix 5000 series technology, the FLEX 5000 I/O platform allows you to choose your I/O to meet your specific application needs. And it gives you intelligent control to quickly respond to your process in a Connected Enterprise."

A wide range of safety modules will be available for the FLEX 5000 I/O platform in a future release. Users will be able to meet their specific safety needs with modules that are TÜV certified for use in safety applications up to SIL 3 and PLe, Cat. 4.

The FLEX 5000 I/O family is designed for security to help companies protect their assets and their brand. The platform helps enable the secure convergence of industrial and enterprise systems when using an open, standard and IT-friendly Ethernet network. This is a result of deploying a defense-in-depth security strategy with firmware encryption, birth certificates and secure boot functionality. 

About Rockwell Automation
Rockwell Automation Inc. (NYSE: ROK), the world's largest company dedicated to industrial automation and information, makes its customers more productive and the world more sustainable. Headquartered in Milwaukee, Wis., Rockwell Automation employs approximately 22,000 people serving customers in more than 80 countries.

Media Contacts
Patti Vivolo
Rockwell Automation
pvivolo@ra.rockwell.com

Keegan Leddy
Padilla
612.455.1941
keegan.leddy@padillaco.com
Contact This Company Download Spec Sheet
More from Communication Systems & Equipment