New Filter Basket Constructed from 30% Glass Filled Polypropylene Material
Press Release Summary: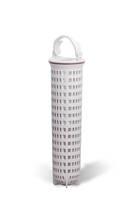 Features an increased inner diameter to accommodate High-efficiency bags
Includes external O-ring seal to prevent by pass
Used with Hayward size 2 FLV series bag filters only
---
Original Press Release:
New Filter Basket For Hayward GFPP FLV Series Bag Filters
Clemmons, NC (September 9, 2019) – Hayward is proud to announce the launch of a new improved performance filter basket for its industry leading Glass Filled PolyPropylene (GFPP) FLV Series Bag Filters. The latest addition to the product line is a one piece, injection molded basket that increases the capabilities of the FLV Series Bag Filter for extreme services and applications. The heavy duty filter basket will now be supplied standard with all Size 2 GFPP FLV Series Bag Filters from Hayward Flow Control, or it can be ordered separately to replace existing baskets.
The heavy duty filter basket is constructed from 30% glass filled polypropylene material. In addition to improved performance, the new design also features an increased inner diameter to accommodate High Efficiency bags.
Additional Key Features & Benefits of the NEW Filter Basket:
Includes external o-ring seal to prevent by pass
Ergonomic Bag Lockdown Handle
Bag Lockdown Handle and Bag Ring Secure Bag Within Filter
Choice of FPM or EPDM Seals
Molded-In Legs Allow Basket To Stand Freely
For use with Hayward Size 2 FLV Series Bag Filters only
Backed by Hayward's Exclusive 3 Year Warranty
Manufactured in the USA
Typical applications or installations include but are not limited to waste water and water treatment, chemical transfer and processing, metal plating & surface finishing, mining and mineral processing, HVAC, pulp and paper, aquatic and animal life support systems and other demanding environments.
About Hayward Flow Control
Hayward Flow Control, a division of Hayward Industries, is a leading U.S. manufacturer of industrial thermoplastic valves, actuation and controls, instrumentation, filters, strainers, corrosion resistant pumps, bulkhead fittings and tank accessories and for use in water and wastewater treatment, chemical processing & transfer, chemical feed, aquatic/animal life support systems, mining, and other industrial processing systems. Hayward's thermoplastic flow control products can accommodate aggressive and corrosive environments, delicate ecosystems or the strictest chemical balances to keep water and life working together. Hayward Flow Control is an ISO 9001:2015 Certified manufacturer.
For more information, contact Hayward Flow Control at 1.888.429.4635 or by e-mail at hfcsales@hayward.com. Visit us also at haywardflowcontrol.com.
Contact:
Robert Gaddy
Hayward Flow Control
1.888.429.4635