New Electrak LL Electric Actuator is CE and RoHS Compliant
Press Release Summary: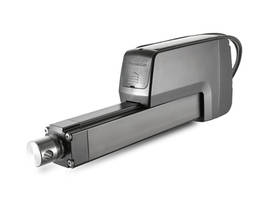 Features two bearings to handle bidirectional load, as well as a built-in, brushless motor and motor drive system
Can withstand temperatures from -40° to +85°C (-40° to +185°F), and
Designed to last up to 372.83 miles and offered in IP69K and IP66 housing
---
Original Press Release:
Thomson Introduces Electrak® LL Electric Actuator with up to 100% Duty Cycle, Long Life and Superior Environmental Protection
02/15/2021,WOOD DALE, IL – Thomson Industries, Inc., a leading manufacturer of linear motion control solutions, has launched the Electrak LL electric linear actuator, a long-life, high-duty cycle component designed to work in the harshest conditions, and offer superior environmental protection. In addition to having improved functionality dedicated to high-duty cycle applications, the Electrak LL comes standard with all of the performance, reliability and durability features that have made Thomson an industry leader in linear actuators.
Long-Life Actuator
With increased UV resistance capabilities, a long-life ball screw and nut assembly, and a long-life manual override design, the Electrak LL actuator is built to last. "The Electrak LL actuator is designed to deliver long life in harsh conditions and utilizes an improved sensor design that offers an integrated, robust solution to our customers. This new actuator is designed to last up to 372.83 miles, which is more than 10 times longer than the standard actuator," said Travis Gilmer, Product Manager – Linear Actuators at Thomson.
Upgraded Design & Control
The load-bearing design of the Electrak LL electric actuator features two bearings to handle bidirectional load, as well as a built-in, brushless motor and motor drive system. This system provides constant speed regardless of the load and delivers the safety functionalities of the Thomson Electronic Monitoring Package. Eliminating the need for standalone controls, these integrated features provide constant monitoring of critical parameters such as end-of-stroke, voltage, current and temperature.
The actuator can withstand temperatures from -40° to +85°C (-40° to +185°F), and is CE and RoHS compliant, which makes it easier for operators to interact with and control operations, and providing a better user experience in all environments. Its coated, painted and sealed housing is rated to IP69K (static) and IP66 (dynamic) standards, meaning it resists corrosion from UV radiation, water jets, high-temperature/high-pressure washdowns and other forces. 
Railway Ready
Such high environmental resistance makes Electrak LL electric actuators ideal in outdoor applications such as pantographs, couplers, steps, access lifts and gravel bins. Standards and safety regulations for railway equipment can be very demanding and require rigorous testing to ensure compliance, and the Electrak LL was built to comply with railway standards EN 50155, EN 60077 and EN 45545.
On the Plant Floor
Long-life actuators such as the Electrak LL are also valuable on the plant floor for high-duty cycle applications such as material handling and logistics operations. For example, automated guided vehicles (AGVs) and logistics trains often run 24/7, exposing their components to excessive wear and tear, however, the durability of these actuators extends replacement intervals significantly. 
For more information on the Thomson Electrak LL and its capabilities, including improved controllability, efficiency and high duty cycle suitable for a wide range of industrial applications, visit: https://www.thomsonlinear.com/electrak-ll
About Thomson Industries, Inc.
With 75 years of achievement in motion control innovation and quality, Thomson is the industry's premier producer of Linear Actuators, Linear Ball Bushing®Bearings and Profile Rail Bearings, 60 Case®Shafting, Ground and Rolled Ball Screws, Linear Systems, and related accessories. Thomson invented the Linear Ball Bushing Bearing in 1945 and has set the standard ever since with an unsurpassed set of linear motion control solutions serving global aerospace and defense, medical and health, factory automation, food processing, and mobile off-highway markets. Thomson, a brand of U.S.-based Altra Industrial Motion, has facilities in North America, Europe and Asia with more than 2000 distributor locations around the world.
For more information 
Thomson Industries, Inc., 1500 Mittel Boulevard, Wood Dale, IL 60191-1073; 1-540-633-3549; 1-540-633-0294 (fax); [email protected];www.thomsonlinear.com.
Editorial Contact: Shreyasi Bhaumik- +44 (0) 203 409 5090
Company Contact: Rob Gallagher– +1 630 694 3321