New DUO Eyelash Adhesives are Free from Formaldehyde and Latex
Press Release Summary: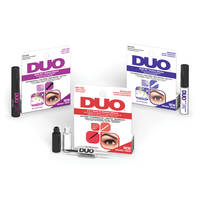 Qosmedix's DUO® QUICK-SET™ Striplash Adhesives collection includes Dark (Part # 513710), White/Clear and a DUO® 2-in-1 Brush-On adhesive. The DUO® 2-in-1 brush-on adhesive features dual end with both dark and white/clear options. The product simplifies the eyelash application and is used by professional makeup artists.
---
Original Press Release:
Qosmedix Expands DUO® Eyelash Adhesive Collection
Ronkonkoma, NY, September 4, 2018 – Qosmedix has recently expanded its offering of DUO® Eyelash Adhesives with three new products. The all new DUO® QUICK-SET™ Striplash Adhesive sets in seconds, making eyelash application even easier! The formaldehyde-free, latex-free formula is available in Dark (Part # 513710) and White/Clear (Part # 513711) and offers a unique silicone tip applicator. Also new to the collection is DUO® 2-in-1 Brush-On Striplash Adhesive (Part # 513709) – a dual-ended product with both dark and white/clear options. This formaldehyde-free, latex-free, hypoallergenic formula was created for use with strip or individual lashes. DUO® Eyelash Adhesive is the world's best-selling lash adhesive and has been a favorite of professional makeup artists for decades. Please visit www.qosmedix.com to place an order or to learn more about these products.
Qosmedix is an ISO 9001, ISO 14001 certified global supplier to the cosmetic, skin care, spa and salon industries. Founded on the concept of maintaining hygienic practices during beauty consultations, the company has expanded to provide an array of high quality products that offer convenience and value to its customers. The vast inventory includes brushes, swabs, applicators, disposable spa wear, jars, bottles and more. For assistance with sample requests, orders or customization inquiries, please contact a Customer Specialist by phone: +1 (631) 242-3270, fax: +1 (631) 242-3291, or e-mail: info@qosmedix.com. Ask to receive the latest catalog, or visit qosmedix.com to view the complete product line. Qosmedix is a division of Qosina, a leading international supplier of components to the medical and pharmaceutical industries.
Contact:
Danielle Venticinque
QOSMEDIX
2002-Q Orville Drive N
Ronkonkoma, NY 11779
Tel: +1 (631) 242-3270
dventicinque@qosmedix.com 
More from Material Processing