New Dual Element Heating Tape Provides Greater Flexibility and High Temperatures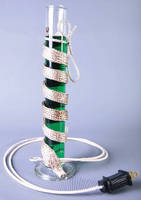 Columbus, OH - BriskHeat, the leader in flexible surface heat, insulation, and temperature control solutions has released its new dual element heating tape. The dual element heating design provides greater flexibility and high exposure temperatures up to 1400°F (760°C). Dual element heating tapes are ideal for wrapping and heating a wide range of laboratory glassware and apparatus including graduated cylinders, beakers, flasks, distillers, tubing, and other equipment.

More information and ordering information can be found at www.briskheat.com/p-384-new-dual-element-heating-tapes.aspx or by calling BriskHeat at 1-800-848-7673 (U.S & Canada), 1-614-294-3376 (Worldwide).

More from Machinery & Machining Tools