New Dual-Axis XZ Positioning Stages Offer 3 Micron Repeatability and 10 Micron Positional Accuracy
Press Release Summary: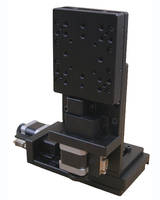 Available with X-axis and Z-axis travel lengths of 15, 30, 50 and 75 mm
Offers high precision and travel speeds with a three-phase brushless servo motor or DC brush servo motor
Comes with limit switches to avoid over-traveling
---
Original Press Release:
High Precision Motorized Cross Roller XZ Dual-Axis Linear Stages are Available from OES!
Van Nuys, CA -- Optimal Engineering Systems, Inc. (OES) is offering a new series of high precision, low profile, low cost motorized Dual-axis XZ Positioning Stages. The compact XZ110 Dual-axis Linear Stages are available with X axis and Z axis travel lengths of 15 mm (0.590 in), 30 mm (1.181 in), 50 mm (1.968 in), and 75 mm (2.952 in) that can be ordered in any combination. Precision ground lead screws with only 2 microns of backlash and high precision cross roller linear travel guides assure repeatability of 3 microns, and positional accuracy of 10 microns. Open loop resolution of each stepper motor driven axis (shown) is 0.5 microns using a 10 micro-steps-per-step stepper motor driver. However, even greater precision and higher travel speeds can be achieved with the selection of either a Three-Phase Brushless Servo Motor or DC Brush Servo Motor.
Table sizes by travel length are: 15 mm travel length is 65 mm x 65 mm (2.559 in x 2.559 in), 30 mm is 90 mm x 90 mm (3.543 in x 3.543 in), 50 mm is 90 mm x 110 mm (3.543 in x 4.331 in), 75 mm is 90 mm x 110 mm (3.543 in x 4.331 in),. Each of the tables has a precision pattern of 16 threaded mounting holes for the addition of custom tooling. The base has drilled and countersunk holes for easy integration into new and existing applications.
The knob on the back of the stepper motors for manual adjustments can be replaced with an incremental encoder for position verification. Each stage includes limit switches that should be used to avoid over-traveling.
Additionally, any of XZ110 Series of Linear Positioning Stages can be ordered as a complete Plug-and-Play system with fully compatible multi-axis motion controllers.
Do your applications require: Longer travel, additional axis or axes such as pitch-and-roll, please consult our team of linear motion specialists at OES.
About OES
Optimal Engineering Systems, Inc. (OES) is a manufacturer of motion control products including: Stepper motor controllers and drivers, solenoid electronics, and positioning stages and slides. Applications include: Animation, automated assembly systems, automation, CNC machines, flight simulation, inspection systems, linear and rotary stages, machine tools, medical devices, motion control camera boom systems, optical comparators, CMMs, pan-tilt gimbals, PCB assembly & inspection, pick-and-place, positioning stages, robotics, scanners, security cameras, telescope drive mechanisms, time-lapse photography and winders.
Some of the industries OES serves are: Aerospace, Astronomy, Chemical, Communications, Educational Institutes, University, Colleges, Government Agencies, National Labs, Manufacturing, Medical, Metrology, Military, Motion Control, Museum, News Agencies, Semiconductor and Test Equipment. Optimal Engineering Systems, Inc's. competitive advantage is its state-of-the-art in-house manufacturing facility in North America enabling OES to supply clients with custom designed orders or high volume just-in-time deliveries globally.
For More Information Contact:
Joseph Hank
OES
6901 Woodley Avenue
Van Nuys, CA 91406
Telephone: +1-888-777-1826 or +1-818-222-9200
E-Mail: [email protected]
Web site: www.oesincorp.com
For Publication Please Contact:
Don Wismann
1029 25th Street South East
Rio Rancho, NM 87124
Office: +1-505-234-1182
Cell: +1-760-497-0776
[email protected]