New Dragon 15 Robotic Brazing System is Capable of Brazing Multiple Joints
Press Release Summary: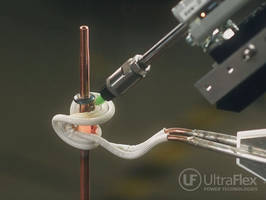 Features integrated induction coil mounted onto the robotic arm
Can work with 15 KW induction system and a wire feeder
Capable of programming wire feeder to start when the heating temperature had been reached
---
Original Press Release:
UltraFlex Induction Brazing Copper Wires Within Less than 8 Seconds Using Dragon 15 Robotic Brazing System
[July 12th, 2019] Induction brazing of copper pipes via automatically fed brazing wire had been recently demonstrated by UltraFlex Power Technologies - a leading manufacturer of digitally controlled induction heaters.
The demonstration featured one of the latest innovations of UltraFlex - the Dragon 15 Robotic Brazing system - integrated to work with a 15 KW induction system and a wire feeder. Dragon 15 has an integrated induction coil mounted directly onto the robotic arm and is capable of reliably brazing multiple joints by applying controllable heat precisely positioned by the robotic arm.
In this robotic induction brazing scenario, copper pipes 6 x 0.75 mm had to be brazed to each other, using 0.8mm brazing wire (silver brazing alloy: L-Ag 56 SN (DIN 8513) BAg-7 (AWS A5.8 ) ~Ag 156 (EN ISO 17672). The pipes had to be fed into the induction system, which was controlled by Dragon 15 Robot via its PLC interfaces. A special RoboBraze gripper was used for attaching the induction coil to the robot's hand.
To accomplish this automatic brazing process, Dragon 15 Robot had been programmed to reach the predefined joint positions. The wire feeder was also programmed to start feeding the wire just when the heating temperature had been reached.
This fully automated induction brazing process produced perfect pipe joints for less than 8 seconds each. The time, temperature, power, speed and other system parameters were specifically programmed for this use case, but can be adjusted according to the individual requirements of the customer. Thanks to the full automation of the process, there was no operator variability and consistent results were guaranteed.
Find out more at:
Contact us at:
+1.631.467.6814
uptnews@ultraflexpower.com
About UltraFlex Power Technologies:
UltraFlex Power Technologies (ultraflexpower.com) offers the most advanced and innovative digitally controlled induction heaters in the industry. Its compact modular and flexible systems are suitable for a wide variety of induction heating, casting and melting applications.
Related