New Double Quattromill 22 Face Milling Cutter Features Surface Texture Technology
Press Release Summary: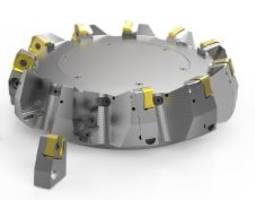 The Double Quattromill® 22 Face Milling Cutter is available in 45° lead angle and 68° cutter versions with depths-of-cut up to 9 mm and 11 mm respectively. The inserts come with wiper flats and high-axle rake angles that improve tool life. The cutter is offered in fixed pocket or cassette versions for diameters from 200 mm to 315 mm. The surface texture technology improves chip control and evacuation. The 45° lead angle inserts feature sharp geometry for stainless steel, titaniums and sticky materials.
---
Original Press Release:
Seco Debuts Strong, Durable Double QuattroMILL 22 Face Mill Cutter at IMTS
TROY, Mich., September 10, 2018 – Seco introduced the new Double Quattromill® 22 face milling cutter for roughing and semi-finishing at IMTS 2018. The strong, durable cutter allows manufacturers to cost-effectively take full advantage of their machine tool's milling power through eight multi-edge insert cutting edges and large depths-of-cut.
Unlike other double-sided inserts, the Double Quattromill 22 inserts actually lower cutting forces/machine power consumption and thus ensure workpiece stability. The inserts feature high-axial rake angles that not only make them free cutting but also give them longer tool life and more versatility for a wider range of part materials. Plus, new Seco surface texture technology applied to the cutter body flute surfaces enhances chip control and evacuation as well as longer maintained tool surface appearance and durability.
The Double Quattromill 22 is offered in two versions. A 45° lead angle version enables depths-of-cut up to 0.350" (9 mm). The 45° lead angle provides a combination of lower cutting forces, less power consumption, higher feed rates and exceptional chip thinning. A 68° cutter version enables depths-of-cut as deep as 0.430" (11 mm) and is recommended when the application calls for milling close to a wall or part fixture.
Double Quattromill 22 inserts also feature wiper flats, and the 45° lead angle types come in three geometries. These include a highly sharp geometry for stainless steels, titaniums and other sticky materials; a universal type for steels to cast irons and superalloys; and one for steels, in particular tool steels from P6 to P11, and cast iron.
For additional cost effectiveness, Double Quattromill 22 cutter bodies come in either fixed pocket or cassette versions for larger diameters from 7.870" to 12.400" (200 mm to 315 mm).
About Seco Tools, LLC
Seco Tools, LLC is a leading provider of metalcutting solutions for milling, turning, holemaking and toolholding. The company prides itself on building close relationships with customers to effectively understand and address their needs. For more information on the company's products and services, please contact Bob Heery, Seco Tools, LLC, 2805 Bellingham Drive, Troy, Michigan, Tel: 248.528.5451, Email: bob.heery@secotools.com, visit www.secotools.com or follow the company on Twitter at @SecoToolsUS.
MEDIA CONTACTS:
dgs Marketing Engineers®
Chuck Bates | 317.813.2230
or
Seco Tools, LLC
Bob Heery | 248.528.5451
More from Fluid & Gas Flow Equipment