New DKIH-EVB Evaluation Board Attenuates High Electro-Magnetic Disturbances
Press Release Summary: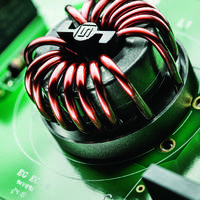 Features high L and C values and offers users with DIY build process to develop suitable EMC filter
Designed for 1 or 3-phase systems up to 50 A current
Can be set up and tested quickly in an iterative process without need for adjustments to the layout of the PCB
---
Original Press Release:
DIY Evaluation Boards DKIH-EVB
Santa Rosa, California, April 25, 2019 - SCHURTER is pleased to introduce an "Evaluation Board", DKIH-EVB. The printed circuit board provides the end user with a DIY build process to achieve the ideal EMC filter, specific to the suppression requirements of their unique application. 
Every designer of an electrical or electronic device is faced with the same problem: In the end, the device must comply with international EMC guidelines regarding emission and immunity. Problems, which mostly arise in the power section, and which often vary in nature, may not be best mitigated using a standard off-the-shelf filter. Due to the high integration of components used to achieve the most compact system design, thermal problems can arise. The resulting EMC interference can affect adjacent components due to the lack of spatial separation. A compact filter with discrete components, configured on the printed circuit board, is likely the best solution. And, a current-compensated choke with capacitors is therefore the most efficient approach to EMC suppression. 
With high L and C values, the vast majority of electro-magnetic disturbances can be adequately attenuated. The art of filter design, however, lies in finding an effective and at the same time cost-optimized combination of components. Often, slightly smaller L and C values are sufficient if these are accurately combined. The new test circuit boards DKIH-EVB provide such a testing ground. They are for 1- or 3-phase systems up to 50 Amperes and accept SCHURTER's current-compensating chokes DKIH-1 and DKIH-3, which can be set up and tested easily and quickly in an iterative process without having to make any adjustments to the layout of your own PCB.
Pricing for the DKIH-EVB starts at $13.00 per each. The datasheet link can be found at DKIH Evaluation Boards and additional info at Application Note EMC Evaluation Board. For sales and product information, contact Cora Umlauf at (800) 848-2600 or by email at info@schurterinc.com. I have attached image for online publishing.
Contact This Company Download Spec Sheet
More from Controls & Controllers