New Dematic Merchandise Returns System Contains Automated Material Handling Subsystem
Press Release Summary: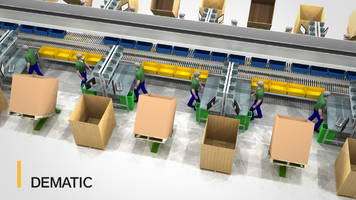 Maximizes operational flexibility by accommodating daily and seasonal fluctuations in returns activity
Reduces operating costs attributed to the reverse logistics activities in distribution center
Allow users to re-configure layout and change software parameters to execute a new operating plan
---
Original Press Release:
Dematic Introduces Returns Processing System for Omnichannel Retailers
Atlanta, Georgia, June 7, 2019 — Dematic introduces the Dematic Merchandise Returns System, a reverse logistics processing solution for omnichannel retailers. It is a material handling sub-system for the distribution center that accelerates and streamlines all the processing steps required to provide customer credit, enter exchanged order and make returned items available for sale.
The Dematic Merchandise Returns System minimizes the processing cycle time from receiving to "sale ready." The results include increased sales since items go back online faster, typically within 24 hours. The customer experience is enhanced when credit for returned items occurs immediately upon receipt/check-in while an exchanged order is entered.
The entire process is more efficient, accurate and organized. Defined workflows occur in specialized functional work zones to optimize labor productivity and improve operational effectiveness. The pre-engineered, pre-tested solution provides consistent and predictable performance from application to application. The Merchandise Returns System reduces operating costs attributed to the reverse logistics activities in the distribution center
"The Merchandise Returns System maximizes operational flexibility by effectively accommodating the daily and seasonal fluctuations in returns activity," says Mike Khodl, Vice President of Solution Management for Dematic. "The modular system design allows users to re-configure the layout and change software parameters to execute a new operating plan or to revise workflow strategies. Furthermore, the modular, pre-engineered automation can scale-up to increase processing capacity."
The Dematic Merchandise Returns System consists of an automated material handling subsystem managed by Dematic iQ Optimize, our Warehouse Execution Software (WES). Workstations are dedicated to a function: credit/exchange, inspection, repairs/special services, re-pack. The conveyor network connects the workstations and optimizes material flow — automated sorters divert items to the appropriate workstation or functional area of the distribution center. The system interfaces with devices such as auto-baggers and other subsystems including storage, picking and the Dematic Pouch System (for buffering, sequencing, sorting and order consolidation).
For more information about Dematic solutions, visit dematic.com.
About Dematic
Dematic is a leading supplier of integrated automated technology, software and services to optimize the supply chain. Dematic employs over 7,000 skilled logistics professionals to serve its customers globally, with engineering centers and manufacturing facilities located around the world. Dematic is one brand under the KION Group of companies and has implemented more than 6,000 integrated systems for a customer base that includes small, medium and large companies doing business in a variety of market sectors.
Headquartered in Atlanta, Georgia, Dematic is a member of KION Group, a global leader in industrial trucks, related services and supply chain solutions. Across more than 100 countries worldwide, the KION Group designs, builds and supports logistics solutions that optimize material and information flow within factories, warehouses and distribution centers. The company is the largest manufacturer of industrial trucks in Europe, the second-largest producer of forklifts globally and a leading provider of warehouse automation.
Media Contact:
Cheryl Falk
Global Marketing Communications
262-860-6715
More from Software