New Crescent Lufkin Shockforce Tape Measure Withstands 100 ft Drop Onto Concrete
Press Release Summary: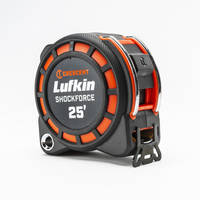 The Crescent Lufkin® Shockforce™ Tape Measure is available in two-sided blade design and 14 ft unassisted standout. The unit's design features steel roll bars for protecting the lock button against drop impact damage and diamond-coated end hook. The product is offered in 16, 25 and 35 ft sizes and is used at hardware stores, home centers, online retailers and commercial distributors.
---
Original Press Release:
Crescent Lufkin® Shockforce™ Tape Measure Introduced as Job Site Game Changer
Built for maximum utility and enhanced durability to withstand 100-foot drop onto concrete
SPARKS, Md., Oct. 30, 2018 /PRNewswire/ -- Tradesmen who use a tape measure thousands of times a year know what makes one stand out from the rest. It's with their input that Apex Tool Group—a premier tool manufacturer—developed its new Crescent Lufkin® Shockforce™ Tape Measure with patent-pending two-sided blade design and an industry-leading 14 feet of unassisted standout.
"Our extensive quantitative and qualitative research determined what users were really looking for in a tape," said Kevin Fitzpatrick, product manager. "Saving time was critical, so when measuring on a jobsite one person can now do a two-person measuring job using this tape. And, since a tape measure is one of the most used tools on a job site, our team also focused on durability to create a product that withstands potential drops and lasts longer." 
The compact design features steel "roll bars" to protect the lock button against drop impact damage, while the diamond-coated end hook provides 50 percent more hook grasp to prevent surface slippage. The dual-sided print combined with enhanced print size and clean design provides superior legibility for quicker measuring.
Crescent Lufkin Shockforce Tape Measures will be available in the following sizes: 16-foot, 25-foot and 35-foot at hardware stores, home centers, online retailers, and industrial and commercial distributors beginning starting in February 2019.
For more information, go to www.crescenttool.com
About Crescent®
Crescent is a premier brand from Apex Tool Group, one of the largest hand tool manufacturers in the world. The product line includes Crescent® adjustable wrenches, mechanics hand tools and sets, Crescent Wiss® snips, scissors, shears, knives and trade tools, Crescent Lufkin® measuring tapes, rules, and wheels, Crescent Nicholson® files and saws, Crescent H.K. Porter® heavy‑duty cutting products and Crescent JOBOX® on-site, flammable liquid and truck storage products. Visit www.crescenttool.com.
About Apex Tool Group
Apex Tool Group, LLC, headquartered in Sparks, Maryland, is one of the largest worldwide producers of industrial hand and power tools, tool storage, drill chucks, chain and electronic soldering products. Apex serves a multitude of global markets, including automotive, aerospace, electronics, energy, hardware, industrial, and consumer retail. Visit www.apextoolgroup.com.
CONTACT: Paul Gangarossa, Paul_gangarossa@dixonschwabl.com, 585-899-3258
More from Fluid & Gas Flow Equipment