New CoroChuck 935 Hydraulic Chuck is Based on Fulcrum Technology
Press Release Summary: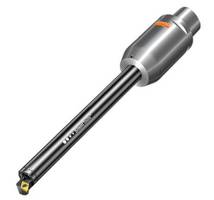 CoroChuck 935 Hydraulic Chuck is offered in 20 and 25 mm bore sizes for HSK-A/C/T, Coromant Capto®, cylindrical shank and VDI machine interfaces. Unit offers clamping length of four times the diameter. The chuck uses EasyFix™ sleeves that help in adjusting center height. Unit comes with a metallic sealing and thin brazed membrane for an improved clamping function.
---
Original Press Release:
A Secure Influence on Machining: Hydraulic Chuck for Turning Offers Market-Leading Security
Cutting tool and tooling system specialist Sandvik Coromant has introduced a high-precision hydraulic chuck for turning operations that offers the market's best pull-out security. CoroChuck® 935 has been designed to deliver fast, rigid and secure clamping, time after time.
With clamping security assured, machine shops can confidently perform demanding turning operations, including those with long overhangs. In fact, CoroChuck® 935 ensures a clamping length of four times the bar diameter. Developed for use on lathes, turning centers and multi-task turn-mill machines, the new hydraulic chuck covers most common machine interfaces.
"The design principal behind the high level of security offered by CoroChuck 935 is based on fulcrum technology," explains Åke Axner, Global Product Manager – Machine Integration at Sandvik Coromant. "A thin, brazed membrane offers an optimized clamping function, whereby expansion creates two distinct clamping points on each side (fulcrums). The concept ensures the clamping force repeats for every use, providing the best possible pull-out resistance and damping performance."
Further benefits of the new chuck include the use of EasyFix™ sleeves to provide the correct center height and help reduce set-up time. EasyFix™ sleeves are a solution for cylindrical boring bars that sees a spring plunger mounted in the sleeve click into a groove on the bar to guarantee the correct center height. The metallic sealing also offers good performance in applications that require high pressure coolant. Moreover, EasyFix™ facilitates excellent cutting action and improved insert life.
CoroChuck® 935 is available in 20 and 25 mm bore sizes ( ¾ and 1 inch) to suit Coromant Capto®, HSK-A/C/T, cylindrical shank and VDI machine interfaces. Imperial sizes are available in Coromant Capto and cylindrical shank interfaces.
For more information, please visit: www.sandvik.coromant.com/en-us/products/corochuck_935/pages/default.aspx
Sandvik Coromant
Part of global industrial engineering group Sandvik, Sandvik Coromant is at the forefront of manufacturing tools, machining solutions and knowledge that drive industry standards and innovations demanded by the metalworking industry now and into the next industrial era. Educational support, extensive R&D investment and strong customer partnerships ensure the development of machining technologies that change, lead and drive the future of manufacturing. Sandvik Coromant owns over 3100 patents worldwide, employs over 7,900 staff, and is represented in 150 countries.
For more information visit www.sandvik.coromant.com
Follow us on social media: 
‎Facebook | YouTube | Twitter | LinkedIn | Instagram
Contact details for editorial inquiries
Contact: Angela Roxas , PR & Sponsorships – Sandvik Coromant 
Phone: (201) 294-9160
Email: angela.roxas@sandvik.com