New CoroBore BC Cutters are Based on Eliminating Unnecessary Tool Changes and Reducing Cycle Times
Press Release Summary: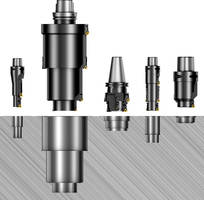 Available with cutting diameters ranging from 20 to 200 mm and tool lengths up to 400 mm that depends on coupling size
Uses CoroBore® cartridges that are offered in radially and axially adjustable, axially adjustable only and non-adjustable configurations
Offered with coupling options such as Coromant Capto®, HSK Form A and ISO 9766 and ISO/Mas-BT/Cat-V tapers
---
Original Press Release:
Latest Boring Cutters Offer Up to Four Operations in a Single Tool
CoroBore® BC from Sandvik Coromant is easier to order and less expensive than engineered tools
Cutting tool and tooling system specialist Sandvik Coromant is introducing its CoroBore® BC (Boring Combination) range of solutions, comprised of TailorMade tools for high-volume applications. Using CoroBore® BC, it is possible to perform different operations such as semi-finishing and chamfering with a single tool. Manufacturers set to benefit include those serving the automotive, general engineering and construction equipment sectors.
CoroBore® BC offers a quick and easy alternative when standard tools do not meet specific requirements, but the cost and delivery time of a specially engineered solution are prohibitive. The process is fast, as Sandvik Coromant personnel utilize an online program that automatically creates the tool and provides price and delivery information.
"The productivity advantages offered by CoroBore® BC tools are based on eliminating unnecessary tool changes and reducing cycle times," says Jenny Nilsson, Global Product Manager, Sandvik Coromant. "Among the many strengths of the new solution is the capability to offer these benefits on much shorter notice, thanks to an automated design and quoting process. The Sandvik Coromant representative simply goes through the required operations and parameters with the customer, and enters the parameters via a web-based design interface. Once this is complete, the system instantly produces the tool design and quote." 
Thanks to the various CoroBore® BC options offered, a wide range of multi-step boring applications can be performed. Indeed, customers can choose from up to four machining operations in a single tool (a maximum of two cutting edges per operation). Cutting diameters range from 20 to 200 mm (0.787 to 7.874 inch), while tool length can be up to 400 mm (15.75 inch), depending on the coupling size. Coupling options include Coromant Capto®, HSK Form A and ISO 9766, as well as ISO/Mas-BT/Cat-V tapers. The wide range of supported coupling models and sizes usually enables direct integration with the machine interface, thus eliminating the need to use a separate basic holder.
CoroBore® BC insert-carrier solutions use CoroBore® cartridges. Compared to fixed insert pockets, this configuration enables easy and efficient cartridge changes. As standard stocked items, both the insert and insert carrier are easily replaceable on short notice.
The cartridges come in three configurations: radially and axially adjustable; axially adjustable only; and non-adjustable. All cartridge options are equipped with high-precision coolant nozzles capable of using coolant pressures up to 80 bar (1160 PSI), a unique benefit in tailored multi-step boring tools.
In addition to standard ISO inserts, CoroBore® BC boring tools can be fitted with proprietary CoroBore® 111 inserts, which come with optimized grade options for medium and rough boring. All in all, the Sandvik Coromant insert program offers productive geometries and grades for all types of materials and boring operations.
Ultimately, the unique benefits of CoroBore® BC present machine shops with an option to receive a tool with a reduced lead time compared to an engineered tool – and at a more attractive price point.
For more information, please visit: www.sandvik.coromant.com/en-us/products/corobore_bc
Sandvik Coromant
Part of global industrial engineering group Sandvik, Sandvik Coromant is at the forefront of manufacturing tools, machining solutions and knowledge that drive industry standards and innovations demanded by the metalworking industry now and into the next industrial era. Educational support, extensive R&D investment and strong customer partnerships ensure the development of machining technologies that change, lead and drive the future of manufacturing. Sandvik Coromant owns over 3100 patents worldwide, employs over 7,900 staff, and is represented in 150 countries.
For more information visit www.sandvik.coromant.com
Contact details for editorial inquiries
Angela Roxas, PR & Sponsorships – Sandvik Coromant
Phone: (201) 294-9160
Email: angela.roxas@sandvik.com
More from Cleaning Products & Equipment