New BMR469 PoL Regulator is Designed for High-Current ICT Applications
Press Release Summary: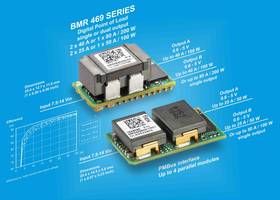 Available in BMR4690000 and BMR4696001 versions with mean time between failures (MTBF) of 18.49 million hours
The BMR4690000 version provides two independent 40 A outputs (dual configuration) and one 80 A output (single-output configuration)
Operated with 7.5V to 14V input voltage and delivers an output in 0.6 V to 5 V range
---
Original Press Release:
Flex Power Modules Introduces Dual-Output Digital PoL Regulator for High Power Density ICT Applications
High power density and compact size saves board space
Flexible dual- or single-output configuration, with output up to 80A
Design and debug work simplified with Flex Power Designer software
Flex Power Modules introduces the BMR469 family, a digital point-of-load (PoL) regulator that is ideal for high-current ICT applications. The BMR469 delivers high power density, up to 160A per square inch, which saves valuable board space.
Two variants with different output currents are available, both in compact packages. The 80A BMR4690000 measures 25.4 x 12.7 x 11.6mm (1.00 x 0.50 x 0.46in), while the 50A BMR4696001 provides a low-profile solution with a maximum height of just 5.8mm (0.23in), helping customers who need to find space for a large processor heatsink, or who want to place the PoL regulator on the underside of their PCB. The low height of the BMR4696001 also makes it possible to place it very close to the processor, thus improving transient response.
Both versions are configurable as either dual outputs or a single, higher-power output. This gives customers the flexibility to use one part to cover different requirements, for example to drive different processors or FPGA rails, helping simplify power system design.
The BMR4690000 variant provides two independent 40A outputs for dual configurations, or one 80A rail in single-output operation mode, while the BMR4696001 provides 2 x 25A outputs or one 50A rail in single-output operation mode. Up to four modules can be paralleled for current sharing, delivering a total of up to 320A for the BMR4690000 and 200A for the BMR4696001.
The BMR469 is simple to configure via pin-strap or PMBus, making it easy to set up for different applications. The regulator is also supported by a simulation model in Flex's Power Designer software, making design and debug work straightforward. In particular, Flex Power Designer's advanced simulation functions enable customers to optimize configuration parameters, so they can achieve a stable control loop with fast load-transient responses.
The BMR469 is well suited to a broad range of applications in the ICT sector, and in particular is ideal for designs that require high power density and a digital architecture solution, such as test equipment or simulator manufacturers. The BMR469 is capable of providing sufficient power to drive high-end components such as processors, FPGAs and ASICs.
Olle Hellgren, Director of Product Management and Business Development at Flex Power Modules, said: "For demanding ICT applications, the new BMR469 delivers a flexible solution in a small package, addressing multiple design headaches for our customers."
Efficiency is high: typically 92.6% at half load (12Vin, 5Vout). The input voltage range is 7.5V to 14V, and output range is 0.6V to 5V. The BMR469 meets safety requirements according to IEC/EN/UL 62368-1, and offers a mean time between failures (MTBF) of 18.49 million hours.
The BMR4690000 is available now, and the BMR4696001 will be available in April 2019.
About Flex Power Modules
Flex Power Modules, a division of Flex (NASDAQ: FLEX), designs and manufactures scalable power supply solutions that improve the operational efficiencies of advanced data center, IT information and communications networks. Flex Power Modules also offers a wide product range for the Industrial/Transportation sector. Flex Power Modules' products provide a complete on-board system solution for cloud, storage and server applications and address customer challenges while delivering superior quality, cost and performance at scale.
About Flex
Flex is the Sketch-to-Scale® solutions provider that designs and builds Intelligent Products for a Connected World™. With approximately 200,000 professionals across 30 countries, Flex provides innovative design, engineering, manufacturing, real-time supply chain insight and logistics services to companies of all sizes in various industries and end-markets. For more information, visit flex.com or follow us on Twitter @Flexintl. Flex – Live Smarter™
Contact for editorial information:
Nayl D'Souza, Account Director, Publitek
Email: nayl.dsouza@publitek.com
Contact for company information:
Tuuli Waern, Technical Marketing Manager, Flex Power Modules
Email: tuuli.waern@flex.com
More from Software