New Bluetooth Bridge Enables Autodesk BIM 360 Layout Connectivity
Press Release Summary: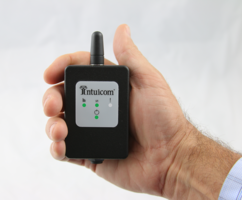 Intuicom's Bluetooth Bridge™ is available in weatherproof design featuring an integrated battery with 12 hrs run-time. Unit is designed for use in high radio frequency interference environments and provides enhanced connectivity between Autodesk BIM 360 Layout and Robotic Total Stations at up to distance of 500 m. The device is compatible with iOS®, Android® and Windows® handheld devices.
---
Original Press Release:
Intuicom's New Bluetooth Bridge Delivers Industry-Leading Connectivity and Performance
Las Vegas, NV – (June 12, 2018) – Intuicom, Incorporated, a premier supplier of wireless solutions to the survey, machine control and construction industries, announced today HxGN LIVE 2018 availability of it's newest Bluetooth Bridge™ . Fully compatible with Leica Geosystems newest Robotic Total Stations, the iCR70 and iCR80, the Bluetooth Bridge delivers best-in-class range and performance via long-range Bluetooth connectivity.
The Bluetooth Bridge (Figure 1) is a rugged, compact, yet powerful communication solution that enables Autodesk® BIM 360 Layout connectivity to Leica's complete line of Total Stations. In addition, the Bluetooth Bridge can enable connectivity to those Total Stations from a variety of controllers, including those running Leica's iCON software.
In field studies, the Bluetooth Bridge outperformed similar solutions, especially in high radio frequency (RF) interference environments, like those encountered on large-scale construction projects. Leveraging the enhanced wireless communication of Intuicom's Bluetooth Bridge, David Lutz, US Geomatics Sales Specialists - Leica Geosystems, noted that Leica users were able to overcome connectivity challenges they previously experienced with other radio devices by using the Bluetooth Bridge to augment their solution. "I was truly surprised at the range and performance the Bluetooth Bridge delivered on the project," said Lutz. "It performed flawlessly with obstacles and machinery in its way."
"Our new Bluetooth Bridge was engineered specifically to overcome the communication limitations that WiFi presents Autodesk BIM 360 Layout users when they are on-site conducting field layouts and verifications," says Tom Foley, president and CEO, Intuicom, Inc. "Users can now experience enhanced connectivity between Autodesk BIM 360 Layout and their Robotic Total Stations at distances of up to 500 meters, even in high RF interference environments, resulting in unmatched field performance and connectivity."
Hands-On Demonstrations
Intuicom is exhibiting in (Booth 101) in The Zone—HxGN LIVE's technology expo showcasing innovative and forward-thinking technologies and solutions that are changing the game in the information technology industry—where they will be demonstrating the Company's array of wireless communications solutions, including the Bluetooth Bridge.
In addition, Mr. Foley will be speaking at HxGN LIVE 2018. His presentation, "Connectivity on Large Construction Sites" is scheduled to begin at 08:00 AM, on Thursday, June 14th, in the Titian conference room (# 2306).
Availability of Bluetooth Bridge
Supporting iOS®, Android®, and Windows® handheld devices, Intuicom Bluetooth Bridge's weatherproof design features an integrated battery providing over 12 hours of extended run-time. The Bluetooth Bridge is compatible with industry leading Robotic Total Stations, including Leica, Topcon, and more. The Bluetooth Bridge is available for purchase through any Intuicom Authorized Reseller. 
Leica Geosystems and Intuicom
An OEM (Original Equipment Manufacturer) supplier to Leica Geosystems, Intuicom has been Leica Geosystems' global communications technology partner since 2003. Intuicom's advanced wireless communications technology is integrated across multiple product families for Leica Geosystems' Survey, Machine Control and Construction Solutions. Seamless compatibility and enhanced connectivity are key to Intuicom's long-standing relationship with Leica, and the Bluetooth Bridge is no exception. "The Bluetooth Bridge was a life saver for us," Lutz emphasizes. "Its performance, compact size, and integrated power supply was everything we've hoped for."
About Intuicom,Inc.
Intuicom provides RTK and wireless data communication solutions designed to satisfy the most demanding requirements for long-range remote or mobile device networking. Founded in 1999,with headquarters in Boulder, Colorado, Intuicom's Wireless Solutions enhance applications including precision agriculture, surveying, machine control and construction. You can learn more about Intuicom and the wireless solutions they offer at www.intuicom.com.
Related